Janesville forward Fernandez makes NCAA DI commitment
May 20, 2016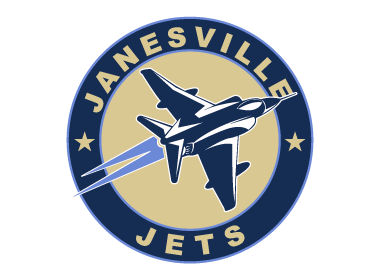 By Mason Lyttle, Janesville Jets
The Janesville Jets, proud members of the North American Hockey League (NAHL), are pleased to announce that forward Taylor Fernandez has committed to play NCAA Division I hockey for the Ferris State Bulldogs of the Western Collegiate Hockey Association (WCHA).
"I always wanted to come back to Michigan and play college here," said Fernandez, a native of Northville, MI, about three hours away from the Ewigleben Arena, home of the Bulldogs. "That was always my number one goal, even before I started juniors. It's always been a dream of mine and I'm glad to have accomplished that."
Fernandez, 21, made his commitment shortly after finishing his third complete season in the NAHL. Beginning his career with the Port Huron Fighting Falcons, Fernandez tallied 14 points in 47 games before the franchise moved to Connellsville, Pennsylvania, and became the Keystone Ice Miners. With Keystone, a division rival of Janesville last year, Fernandez took a step forward and potted 13 goals beside 26 assists for 39 points in 59 games.
In his last year of junior hockey, the 5'11", 165-pound forward was a significant contributor to Janesville's attack. He set career highs in goals (22), assists (27), and points (49) as a key pivot in the Jets' top six.
"Coming to Janesville was huge," Fernandez said. "Things are done different here. [Jets head coach and general manager Joe] Dibble pushed us harder than I've ever been pushed before. He helped me turn myself into a complete, well-rounded hockey player."
Dibble, who this fall will enter his fifth season behind Janesville's bench, agreed with Fernandez's self-assessment.
"I think this year what you saw from Taylor was a complete dedication to improving his game away from the puck," Dibble said. "He's always had a bit of skill in his game, but this season I think he realized he can maximize his scoring opportunities by dedicating himself to the 200-foot game and winning positional battles. He's an incredibly devoted, smart hockey player and should benefit the Bulldogs' program greatly."
The Bulldogs are only adding to their war chest with Fernandez. Bob Daniels, Ferris State's head coach since 1992, led the program to a WCHA Conference Tournament Championship this season on top of a 20-15-6 regular season record.
Fernandez, who represented the NAHL's North Division at the 2015 Top Prospects Tournament in Michigan, was attracted to the program's quality coaching staff.
"I'm extremely excited to play under him," Fernandez said of Daniels, who won the 2013-14 WCHA Coach of the Year Award following a 29-win campaign. "I got to meet them all yesterday. They're real straight-shooters. As long as I go in and work hard every single day, I think I'll have an opportunity to play, and perhaps an opportunity to extend my hockey career even after college. They've been really successful, especially lately, so I'm excited to join that program."
Fernandez becomes the tenth player of the 2015-16 Janesville Jets to commit to a Division I program, joining Adam Winborg (Michigan), Blake Weyrick (Canisius), Dawson DiPietro (Western Michigan), Shane Sellar (Dartmouth), Jack LaFontaine (Michigan), Nils Rygaard (Alaska-Anchorage), Kip Hoffmann (Alaska-Anchorage), Jack Gates (Colorado College), and Michael Maloney (Brown).