Road Warriors: Wilderness, Bruins claim Game 1 of Semi's
May 9, 2015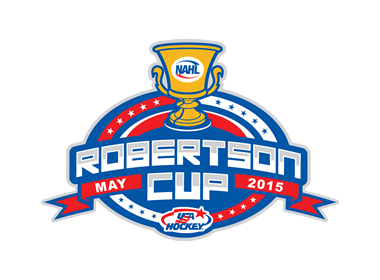 Robertson Cup Semi-Finals (Minnesota leads series, 1-0)
Game 1: MN Wilderness 2 @ Janesville 1
– The Minnesota Wilderness won their seventh straight playoff game on Friday as they went into Janesville and captured Game 1 by a score of 2-1. Former Janesville goalie and current Wilderness netminder Brock Kautz played well in the win, stopping 17 of 18 shots that came his way to move the Wilderness to within one win of the Robertson Cup Finals. The Wilderness outshot the Jets in each of the three periods and 30-18 for the game. Minnesota was bolstered by a fast start, which seemed to catch the Jets off guard. Less than a minute into the contest, it was the playoffs leading scorer, Darian Romanko, who lit the lamp to give the Wilderness a 1-0 lead as he scored from the low slot with a shot low to the blocker side of Janesville goalie Matt Jurusik. The eventual game-winner came just over three minutes later as Bradley Johnson's shot eluded Jurusik for a 2-0 Wilderness lead. Tyler Hart would assist on both goals. The Jets pulled to within one just :28 seconds into the 2nd period as Zach LaValle scored his third goal of the playoffs. However, that would be all that Kautz and the Wilderness would allow as they gave up just 10 shots on goal in the final two periods. Jurusik ended with 28 saves on the night. Game 2 in Saturday night in Janesville.
Boxscore
Robertson Cup Semi-Finals (Austin leads series, 1-0)
Game 1: Austin 3 @ Lone Star 1
– As predicted, offense was hard to come by in the first game of the Austin vs. Lone Star series as the Bruins shut the door on the Brahmas with a 3-1 win in Game 1. The win puts Austin one win away from advancing to their second straight Robertson Cup Finals. After a tightly contested 1st period, which featured the most offense of the night, it was the Bruins who jumped ahead 1-0 with a late 1st period goal by Trevor Boyd, who raced in on a breakaway and beat Brahmas goalie Jake Kupsky. Less than a minute later, the Bruins increased their lead to 2-0 as a broken play from behind the net saw Nico Sturm score on a wrap around attempt. After a scoreless 2nd period, the Bruins increased their lead to 3-0 as Alex Pettersson scored his third goal of the playoffs. The Brahmas came right back with a power play goal to make it 3-1 as Ludvig Larsson put home a rebound after a shot from Sebastian Vidmar and an original save by Jake Kielly. However, that would all that Kielly and the Bruins would allow in Game 1 as the Brahmas managed just 17 shots on goal with only 11 of those coming the final two periods. Kielly made 16 saves in the win and Kupsky made 17 saves in the loss. Game 2 is Saturday night in Lone Star.
Boxscore