Janesville defenseman Yoder makes NCAA DI commitment
March 13, 2015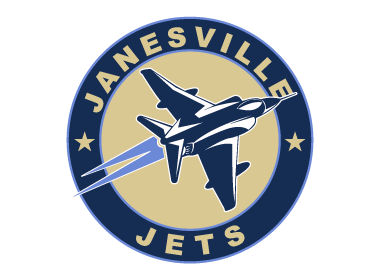 By Mason Lyttle
The Janesville Jets, proud members of the North American Hockey League (NAHL) are pleased to announce that defenseman Zach Yoder has committed to play NCAA Division I hockey for the Air Force Falcons of the Atlantic Hockey Association (AHA).
Yoder (6'4/205) has made significant improvements to his game in his final year of junior eligibility. The 1994-born defenseman has recorded 23 points on four goals and 19 assists through 52 games with the Jets this season, a tremendous progression from the four points, all assists, he had through 46 games last year. He also played in the 2015 NAHL Top Prospects Tournament in late February for the North Division team.
"I think my confidence is a little up from last year," Yoder said. "Last year I was playing almost not to make a mistake. This year I've accepted that I can learn from mistakes and move forward. It's all been about confidence."
One would certainly expect the NAHL's leader in plus-minus to be playing with some confidence and leadership. The Woodstock, Georgia, native has skated to a plus-38 mark this season, a complete turnaround from his minus-14 posted last year.
"His plus-minus is a stat he takes a lot of pride in," said Jets head coach and general manager Joe Dibble. "He doesn't like to get scored on. That mentality has been contagious for the rest of the group."
Asked to point to Yoder's best quality, Dibble said it was hard to pick just one. "He doesn't turn pucks over," noted the third-year head coach. "He has a great first pass and an unbelievable stick. Guys look to him to shut down the opposition's top scoring line."
Yoder's outstanding year began almost as soon as he finished last season. The shutdown defenseman hit the weights hard over the summer in an effort to add some physicality to his game. "Obviously I was trying to gain weight last summer so I got myself a personal trainer and he gave me a meal plan," said Yoder. "I was eating about 4000 calories a day. I gained like eighteen pounds."
It isn't just Yoder's physical toughness that has earned him onto a D-I program. Dibble praised the defenseman's courage and dedication coming into his final junior season. "He came into this year on a mission," Dibble said. "He didn't want to be the best defenseman on the Jets, he wanted to be the best defenseman in the league. He said "I'm gonna do whatever it takes," and it's an attitude he's had all year."
The Falcons seem to be keeping close tabs on Dibble's Jets over the last two seasons. This fall, Yoder will be one of five former Jets on the Air Force roster. Forward Evan Feno committed last month, and Kyle Patava, a forward currently with the Des Moines Buccaneers of the United States Hockey League (USHL), committed to Air Force in October, when he was still with the Jets. All three incoming freshmen will hope to learn the ropes from goaltender Austin Priebe and forward Jordan Himley, who are each finishing their first years as Falcons.
"I spoke with [Himley] quite a bit when Air Force first started talking to me," admitted Yoder. "He had some great things to say about the program and thought it would be a good opportunity for me."
Since 1997 the head coach at Air Force has been Frank Serratore, from Coleraine, Minnesota. Serratore has more than 30 years of head coaching experience, and his brother, Tom, coaches the Bemidji State Beavers, where Yoder's partner Ian Janco will play next season.
"They're a first class staff," said Dibble of Frank Serratore and his assistants earlier this season. "They do things the right way. They don't let their players get away with being lazy. They make young men into great young hockey players and better overall human beings."
Announcing his decision Thursday afternoon, Yoder became the third of Janesville's four 1994-born players to earn his D-I commitment, joining Janco and leading scorer Zach LaValle, who committed to Miami last month. In what is already a record-breaking season for the Jets, Dibble sees Yoder's commitment as even more inspiration for his group of young men.
"It's a testament to perserverence," Dibble said. "All three of those guys committing is a great motivator for our younger guys. Even if it doesn't happen in year one or even year two, you can't give up. Zach wasn't willing to give up. All the blood, sweat, and tears he's put in to achieve his goal have paid off. His teammates are excited for him and see that they can reach their goals, too.
"That's what we're here for, right?" he added. "That's what the Jets are all about. It's about advancement, development, and getting to the next level. Yoder is yet another success story for us."
Yoder is the 11th player of the 2014-2015 Jets to commit to a Division I program, joining Grant Frederic (Miami), David Radke (Colorado College), Zach LaValle (Miami), Evan Feno (Air Force), Ian Janco (Bemidji State), Grant Hutton (Miami), Nicolas Erb-Ekholm (Alaska-Anchorage), Kyle Patava (Air Force), Mitch Fossier (Maine), and Drew Callin (Bentley).