Offense reigns supreme on Day 1 of the NAHL Showcase
September 17, 2014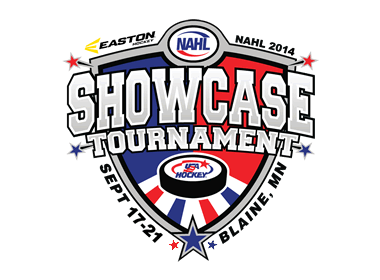 Day 1 of the NAHL Showcase is in the books and the story was the abundance of offense in the opening games. In the 12 games on Wednesday, an average of almost six and a half goals were scored per game. A total of 77 goals were scored, leaving several goalies and defenses perplexed. However, there were two shutouts on the day and even a 24-man shootout.
It was another tremendous day for scout turnout as hundreds of NCAA and NHL scouts filled the building again showing why the NAHL Showcase is considered the best event of its kind and one that scouts do not miss.
Day 2 of the Showcase is on Thursday and fans can watch all the games live on FASTHockey.
Minnesota Magicians 3 vs. Lone Star Brahmas 2 – Most of the scoring was done in the 1st period as the teams were tied at 2-2. Johan Steen and Anton Santesson scored for the Brahmas, while Nathan Krusko and Denis Shevyrin answered for Minnesota. Shevyrin would end up with his second goal of the game in the 2nd period, which stood as the game-winner. Vaughan Ahrens made 27 saves in the win. Boxscore
Minnesota Wilderness 6 vs. Rio Grande Valley Killer Bees 0 – It was all Wilderness in this game as they outshot Rio Grande 39-15. After a scoreless 1st period, the Wilderness opened things up in the 2nd period with three goals and three more goals in the 3rd period. Alaska-Fairbanks recruit Tyler Cline had a hat-trick and Brett Heikkila, Aaron Miller and Isak Bergland also scored for Minnesota. Ryan Anderson made 15 saves in the shutout, while Josh Erickson stopped 33 shots in the loss. Boxscore
Amarillo Bulls 5 vs. Wenatchee Wild 2 – The Bulls scored four unanswered goals to win 5-2 over the Wild in a South matchup. Goals by Lane Valimont and Colin Burston had the Wild up 2-1. Tristen Rostagno had the lone goal for the Bulls until late in the 2nd period when Joey DiBenedetto and Cody Gylling scored for the first Bulls lead. Brady Crabtree and DiBenedetto scored in the 3rd period. Jacob Weatherly made 34 saves in the win. Boxscore
Coulee Region Chill 5 vs. Odessa Jackalopes 2 – Adam Lovick scored twice as the Chill never trailed in a 5-2 opening day win over the Jackalopes. Eddie Matsushima and Cameron Cooper scored to put the Chill ahead 2-0. Odessa would cut the lead to 3-2 with goals from Kenny Hausinger and Ryan MacKellar, but Lovick scored twice and Sean Lang also netted a goal. Adam Carlson made 32 saves in the win. Boxscore
Corpus Christi IceRays 5 vs. Kenai River Brown Bears 2 – It was the Anthony Cortese show as the defenseman had a hat-trick and assisted on the two other IceRays goals as Corpus Christi beat Kenai River, 5-2. Cortese scored the first three IceRays goals in the 1st and 2nd periods. That was answered by Brown Bears goals from Gustav Berglund and Nate Colwell. Cortese would set up both IceRays goals in the 3rd period, which were both scored by Nathan Bryer. Andrew Lindgren made 21 saves in the win. Boxscore
Wichita Falls Wildcats 6 vs. Fairbanks Ice Dogs 5 (OT) – The Wildcats score the last three goals of the game, including the OT winner from Alex Falconer as they came away with a 6-5 win over Fairbanks. Jesper Ohrvall scored twoce for Fairbanks, including the first two goals of the game. Evan Okeley had two goals for Wichita Falls. Other Ice Dogs goals came from Cayden Hill, Jacob Hetz and John Teets, while Wichita Falls got their other goals from Nick Farmer, Paul Soubry and Cam Knight. Boxscore
Austin Bruins 5 vs. Michigan Warriors 2 – The Bruins fired 33 shots on goal in a 5-2 win to open their season. After a scoreless 1st period, Michigan led 1-0 on a goal from Derek Frentz. Austin answered with three straight goals from Luke Forfar, JC Maclean and Zach Kennedy. Nick Mosher scored for the Warriors to cut the lead to 3-2, but two late goals from Brian Bachnak and John Chorzempa secured the win for Austin, who got 24 saves from Zach Driscoll in the win. Boxscore
Johnstown Tomahawks 3 vs. Aberdeen Wings 2 – The Tomahawks jumped out to a 3-0 lead and held off a late Wings rally to move to 1-1 on the season. Andrew Romano, Alex Jaeckle and Zach Zech scored for Johnstown as they led 3-0 midway through the 3rd period. The Wings made it a game with goals late in the 3rd period from Kyle Haak and Ronnie Hein. Jacob Gwillim won his NAHL debut, making 24 saves. Boxscore
Topeka RoadRunners 3 vs. Keystone Ice Miners 2 (SO) – It took 24 combined shooters, but the RoadRunners came away with a 3-2 win over Keystone. Dawson DiPietro and Beau Dommer scored for the RoadRunners in regulation, while Keystone got goals from Garrett Hallford and Scott Donahue. In the shootout, Topeka goalie Drew Vogler was able to stop all 12 shooters from Keystone, while Ice Miners goals Alex Blankenburg stopped 11 Topeka shooters until Will Scherer finally scored the shootout winner. Boxscore
Soo Eagles 7 vs. Bismarck Bobcats 0 – The second shutout of the day was posted by the Soo Eagles, who needed just 25 shots to score seven goals. Seven different players scored goals for the Eagles, including Raymond Brice, Trevor Cope and Chason Matson in the 1st period, Evan Mills in the 2nd period and Sandis Zolmanis, Keegan Miller and Brad Pung in the 3rd period. Sean Keating posted the shutout for the Eagles making 18 saves, while Hunter Sheperd took the loss for the Bobcats, also making 18 saves. Boxscore
Springfield Jr. Blues 3 vs. Brookings Blizzard 2 – In one of the more evenly matched games of the day, the Springfield Jr. Blues edged the Brookings Blizzard 3-2 behind 26 saves from Dryden McKay. Joseph Carney had the lone goal of the 1st period for the Jr. Blues. Springfield increased the lead to 2-0 in the 2nd period on a goal from Tim Faulkner. Beau Michaud scored for Brookings to make it 2-1. Josh Lammon scored the eventual game-winner early in the 3rd period. After a goal from the Blizzard's Joe Anderson, Brookings could not find the equalizer. Boxscore
Janesville Jets 4 vs. Minot Minotauros 1 – Matt Jurusik made 19 saves and Zach Lavalle had two goals and an assist as the Janesville Jets beat the Minot Minotauros, 4-1. Brandon Schultz put Janesville ahead 1-0 with a 1st period goal and Kyle Patava made it 2-0 in the 2nd period. Minot got on the board with a power play goal from Christian Mohs in the 2nd period, but two goals in the 3rd period from Lavalle cemented the win. Boxscore