Jets goalie Halladay makes NCAA DI commitment
March 12, 2014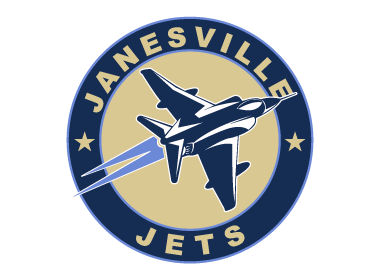 The Janesville Jets, proud members of the North American Hockey League (NAHL), are pleased to announce that goaltender Logan Halladay has made a commitment to play NCAA Division I hockey for the University of Minnesota of the BIG 10.
Halladay (6'2/180) is 17-years-old and calls Cary, North Carolina home. This season, Halladay has appeared in 27 games and has a 16-8-1 record with a 2.32 goals against average and a 93.1% save percentage.
"We are very proud of Logan because this commitment is a result of all the hard work he puts in on and off of the ice. He has a confidence to his game that you don't usually find in players his age. His compete level is off the charts and he improves his game every day. The Gophers are a first class program with an outstanding staff and they are getting a first class young man, it's a great match," said Janesville head coach Joe Dibble.
Last month, Halladay turned heads at the NAHL Top Prospects Tournament where he played on the NAHL 18U Selects Team, where he posted a 1.98 goals against average and a 91.3% save percentage in the two games against the HPHL All-Star team and the USNTDP-17 Team.
Halladay is also an alumni of the NAPHL, having played in the league during the 2011-12 season for the Carolina Jr. Hurricanes 16U team. During that season in the NAPHL, Halladay put up an 4-4-1 record and was in the top 8 in save percenatge with a 91% mark.
"I'm extremely thankful for this opportunity that I've been blessed by God with to play college hockey for such an unbelievable University. It's been a lot of hard work and I would like to thank all of my coaches for pushing me to be the best that I could and always helping me get better but especially all of my family members who have been the best support system that I could ever ask for. There is no way I could have made it this far without them so I owe it all to them," said Halladay.
"It has been a great year here in Janesville so far. The coaching staff and management have given the players every opportunity to succeed and I am extremely thankful for the help and support they have given along the way. We have a special group of guys this year in Janesville and we have all certainly pitched in to help get wins, as well as college commitments. Although we are receiving attention for commitments that we have earned, our number one goal is winning a championship and that is not something that we will stop working for. We are extremely excited to finish out the year strong and make a run for the Robby!" stated Halladay.
Halladay is the seventh player on the current 2013-14 Jets roster to have secured an NCAA Division I commitment, joining Kyle Patava (Army), Nick Petrella (Holy Cross) , Jesse Junttila (Northern Michigan), Michael Louria(UMASS Lowell), Austin Priebe (Air Force) and Robin Hoglund (University of Minnesota).