NAHL Top Prospects just one week away
February 10, 2014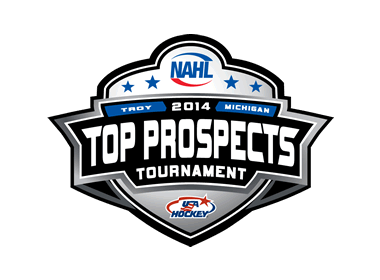 The North American Hockey League (NAHL) 2014 NAHL Top Prospects Tournament, presented by Easton, is just one week away and will be held from February 17-18, 2014 at the Troy Sports Center in Troy, Michigan. 100 total players from the NAHL will be spread amongst five teams, who will play in two games each during the event. The event will feature teams that represent the four divisions in the NAHL: Central, Midwest, North and South, along with an NAHL 18U Selects team comprised of some of the top players currently playing in the NAHL that are 18 years old or younger.

SCOUT PASSES ON SALE: Scout passes will be available for $50 for the entire event or $30 a day and are on sale now. The packet includes a pass for entrance into the Troy Sports Center for all five days of the event, access to the scout room, which will include food and beverage throughout the event, a tournament program, line charts for each game and all pertinent team and player information. The scout pre-sale lasts until February 10th. To order your scout pass today please contact Sara Danielson in the NAHL office at 972-464-1405 or at sdanielson@nahl.com
2014 NAHL Top Prospects schedule:
Monday, February 17th: North vs. South (1pm), NAHL 18U Selects vs. HPHL 18U All-Stars (3:30pm), Central vs. Midwest (6pm)
Tuesday, February 18th: Central vs. South (1pm), Midwest vs. North (3:30pm), NAHL 18U Selects vs. USNTDP 17-Team (6pm)
For more information on the NAHL Top Prospects Tournament, visit: www.nahl.com/tpt
In a very short period of time, the NAHL Top Prospects Tournament has become one of the most highly-scouted events of its kind. Last season, over 170 scouts attended the event, which featured almost every NHL team and NCAA Division I school. Over a third of the players that competed in last year's event ended up with an NCAA Division I opportunity. Combined with the NA3HL Top Prospects Tournament and NAPHL Championship series, it will make for an exciting week of hockey and provides a great opportunity for every scout and coach to get a close look the talent in the three leagues.
While the four NAHL divisional teams will play amongst each other at the event, the NAHL 18U Selects Team will face an 18U All-Star Team from the High Performance Hockey League (HPHL) on Monday, February 17th and then will face USA Hockey's National Team Development Program (NTDP) U17 Team on Tuesday, February 18th. This offers a unique opportunity for the NAHL and the NTDP to participate in a high-profile event in cooperation with one another. The NAHL and the NTDP have a rich and productive 12-year history together, as the NTDP was a full-time member of the NAHL from 1997-2009.
Only those NAHL players without an NCAA commitment are eligible to participate in the NAHL Top Prospects Tournament, with the exception of those who will be playing on the NAHL 18U Selects team. Each of the teams will consist of a 20-man roster (12 forwards, 6 defensemen, 2 goaltenders).
In conjunction with the NAHL Top Prospects Tournament, all North American Prospects Hockey League (NAPHL) teams - Midget Major and Midget Minor will compete in the NAPHL Championship Tournament Series for the right to be crowned league champions. That event runs from February 14-18, also at the Troy Sports Center in Troy, Michigan.
The North American 3 Hockey League (NA3HL) will also play their Top Prospects Tournament during the week, as all 21 teams will be represented amongst teams in the four divisions of the NA3HL. Each divisional Top Prospects team will play in three games from February 17-19 at the Troy Sports Center in Troy, Michigan.
About Easton
Easton Hockey continues to rank atop the industry in sticks and gloves and is growing faster in skates than any other company. It also offers a comprehensive collection of protective gear including helmets and pants. To learn more, go to www.easton.com