Delgreco's big night helps Warriors to 9th straight win
February 2, 2023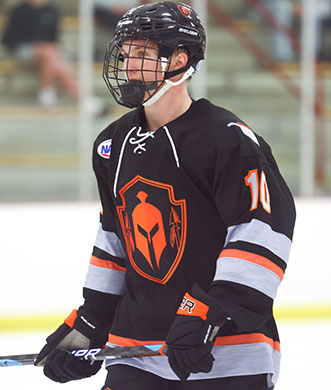 Amarillo 1 @ Oklahoma 7 - Joey Delgreco scored twice and added four assists, helping the Oklahoma Warriors to their ninth straight win, and the top spot in the North American Hockey League, with a 7-1 final over the Amarillo Wranglers Wednesday at Blazers Ice Centre.
Delgreco factored in on the Warriors' first five goals of the game, and his production started near the end of the first period. With the Warriors on a powerplay, Drew Sutton won a draw to the wall where it bounced off William Lawson-Body to Delgreco. Delgreco then set up Garrett Horsager for a slapshot goal from the blueline at 16:34. The Warriors took the 1-0 lead into intermission, despite being outshot 12-5.
Just over six minutes into the second period, Oklahoma capitalized on an Amarillo misplay to go up 2-0. Delgreco intercepted a clear up the wall from the Wranglers' netminder and played it to Sutton for a one-touch in front. Fifty-nine seconds later, Delgreco scored from Malte Hasselgren behind-the-net feed for the 3-0 goal. With 5:06 remaining in the second, Delgreco and the Warriors struck again. Hasselgren helped win a board battle back to Cole Teleki at the point, and Teleki sent the puck forward for Delgreco, who had snuck his way behind the Amarillo defense. Alone in the slot, Delgreco was stopped on his first attempt, but used an outstretched reach to tuck the puck in on his own rebound to give Oklahoma a 4-0 lead headed into the locker room.
Scoring resumed at the halfway point of the final frame when Amarillo got on the board with a shorthanded goal from Rihards Simanovics, but the Warriors answered back with two powerplay goals in quick fashion. At 10:44, shades of the game's opening goal shown through. Delgreco got the puck from a Sutton faceoff win, then passed it to Horsager at the far-side point. This time, Horsager's blast was tipped in by William Ahlrik in the slot to make it 5-1. Fifty-nine seconds later, Ahlrik blocked Delgreco's shot in the slot and the puck rolled to Horsager, who ripped in his second powerplay goal of the game. Before Amarillo could escape the onslaught, Sutton and Therien Thiesing added a final goal for the Warriors. During a reset in neutral, Rylan Brady returned the puck up the near ice, and hit Kaden Nelson in the skate to inadvertently kill its momentum. Thiesing rushed to get it and he and Sutton had a give-and-go down the Wranglers zone that resulted in Thiesing's fourth goal of the season with 1:13 remaining in the third.
Warriors goalie Daniel Duris made 21 saves in the win, while Carter Clafton made 10 saves in the loss.