Gongshow Flow of the Month winner for October announced
November 2, 2016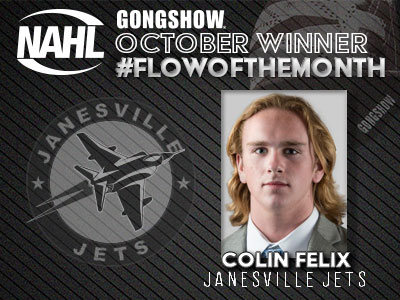 We continue the GONGSHOW Flow of the Month in October.
By now, the season is two months old and players have had plenty of time to grow the flow. There is a chill in the air and proper flow is not only important for style, but also to keep warm during the impending winter months.
Players in the NAHL and NA3HL are encouraged to submit photos of their best 'hockey hair' or 'flow' via social media or email by the end of every month during the regular season. The winners will receive a Gongshow Gear hat.
The winner in the NAHL for October is Janesville Jets defenseman Colin Felix.
Felix, 17, is in his first season playing in the NAHL for the Jets. The native of Audubon, New Jersey, has appeared in 11 games to date and recorded five points. Felix is also one of the over 70 NAHL players that are currently committed to an NCAA school as he is committed to play for UMass-Amherst in 2018-19.
Since Halloween just ended, we will do some comparisons with the flow… Felix has a nice 'Thor' look going on here. His blonde locks are wavy and feathered and show some real style. Why mess around with a mullet when you have this strawberry gold salad atop of your dome? Answer… you don't! Step 1: Pert Plus. Step 2: Grab brush. Step 3: Blow Dry. Step 4: Face out towards the open wind and let the mane flow like you are Simba standing atop of Pride Rock. Well done, Colin!
For the sixth season in a row, Gongshow is the exclusive sponsor of the Flow of the Month promotion exclusively on the NAHL and Gongshow Twitter sites @NAHLHockey and @GONGSHOWGEAR.
To enter the contest for the month of Movember, submit your best #FlowoftheMonth pictures by November 30th to @NAHLHockey and @GONGSHOWGEAR. Two winners will be selected on December 1st. Winners will receive a Gongshow Gear hat.
Extra points will be awarded in Movember for players sporting the facial hair that comes along with participating in Movember.
Gongshow Gear Inc. (Gongshow) is the Official Lifestyle Hockey Apparel of the NAHL. Gongshow is also the sponsor of the NAHL TV platform on the NAHL website at NAHL.com. Gongshow is recognized as the hockey good industry's premier manufacturer of innovative, high quality, fashionable and trend setting clothing apparel for hockey athletes of all ages and abilities.