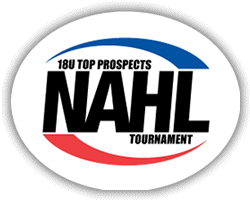 NAHL 18U Top Prospects Tournament
Fogerty Arena -

Blaine,

MN
May 20 - 22, 2022
Blaine, MN

NAHL 18U Top Prospects Tournament
The North American Hockey League (NAHL) is pleased to announce that it will host an 18U Top Prospects Tournament. The NAHL & NAHL Central Scouting work together to bring the best 18U players to Blaine, MN to play 4 games each in conjunction with the NAHL Robertson Cup at the Fogerty Ice Arena and showcase them in front of the scouts in attendance for the Robertson Cup.
The event will take place from May 20-22, 2022, at Fogerty Arena in Blaine, Minnesota. Each team will consist of a 20-man roster (12 forwards, 6 defensemen and 2 goalies). Teams will play in four games each during the event, which will include three round-robin games, followed by consolation and championship games.
The NAHL 18U Top Prospects Tournament will consist of teams made up of 18U players. The event regularly features teams from the NAPHL, NA3HL, T1EHL, MN High Performance, Michigan Tier I Selects, and Canada. In 2019, 20 players that participated in the NAHL 18U TPT was drafted or tendered in the NAHL.
If you are interested in having a team from your league in the event, please contact Alex Kyrias.