November 22, 2013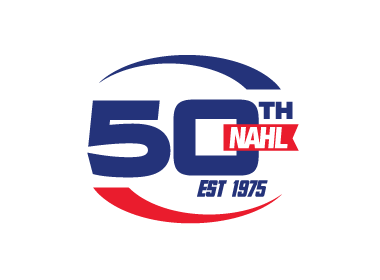 It is a pre-Thanksgiving feast in the NAHL this weekend as they schedule is once again stuffed full of games as all 24 teams are in action. Five of the 12 series this weekend feature out-of-division match-ups as valuable points are on the line.
Central Division
Bismarck Bobcats @ Aberdeen Wings – A firm grasp on 2nd place in the Central is at stake this weekend as the Bobcats travel South to face the Wings. The Bobcats have lost four of their last five games, but have taken five of six points against the Wings so far this season. The last these two teams met was in Aberdeen back on November 1st when Wings forward Kyle Haak scored in overtime for a 5-4 win. Bismarck (23 pts.) enters the weekend two points behind the Wings (25 pts.) for 2nd place in the Central.
Brookings Blizzard vs. Austin Bruins (home and home) - The 1st place Bruins will have their guard up this weekend after splitting last weekend with the Blizzard in a home-and-home series. The Blizzard posted their biggest win of the season over the Bruins last Friday by a score of 7-1. The Bruins turned it around the next night with a 3-0 shutout win. Bruins goalie Nick Lehr has posted shutouts in two straight starts. The Blizzard are also playing some good hockey, having taken points in four of their last five games.
North Division
Port Huron Fighting Falcons @ Johnstown Tomahawks – It appears there have been very few opponents who have been able to stop the Fighting Falcons so far this season. Port Huron hasn't lost a game in regulation since October 9th and have a six point lead in the North entering their series with the Tomahawks. The Falcons are 3-0-1 against Johnstown this season, however the last time the two teams played, the Tomahawks came away with a 4-3 overtime win on November 3rd courtesy of a goal of Shane Bednard, who has been one of the hottest players in the league with 10 points in his last five games.
Janesville Jets @ Springfield Jr. Blues – Both teams are in the need of wins and points as Janesville travels South to Springfield. The Jets have lost four of their last five games, including being swept last weekend by Port Huron. The Jr. Blues snapped a four-game slide last weekend with a 4-1 win at Coulee Region. Springfield occupies the 4th and final playoff spot with 21 points, just one point ahead of 5th place Soo. With 15 points, Janesville is six points out of the playoff spot, which makes this weekend a critical one for the Jets.
South Division
Lone Star Brahmas @ Corpus Christi IceRays – Both Lone Star and Corpus Christi have some big ground to make up in the South to get back into playoff contention. The IceRays are winless in November and have lost their last seven games. However, in their only games against the Brahmas this season, the IceRays outscored them 12-2 in a weekend series back on Sept. 27/28. The Brahmas have won two of their last three games and have been bolstered by the recent good play of goalie Jacob Nehama.
Rio Grande Valley Killer Bees @ Amarillo Bulls – The Killer Bees could not stop the Bulls machine last weekend down in Hidalgo, so they will give it another try up in Amarillo this weekend. The Killer Bees have been playing well of late and the sweep last weekend was only the second time this season that Rio Grande Valley had two games in the row in regulation. The Bulls have won 8 in a row and enjoy the NAHL's best record and also the largest lead of any division leader at eight points. Last weekend, the Bulls won 4-2 and 5-3 over the Killer Bees.
Odessa Jackalopes @ Topeka RoadRunners – Two more games remain this weekend in this three game set. Behind 16 saves from P.J. Bridges, the RoadRunners shutout the Jackalopes on Thursday by a score of 4-0. Topeka now has taken points in four straight games and is playing at home since the first weekend in October. Defenseman Andrew Roye has six points in his last four games. Despite the loss last night, the Jackalopes have gone to goalie Eric Hancock, who has had the hot hand recently, allowing nine goals in his last four games. With the win last night, Topeka is now 5-0 against Odessa so far this season.
Out-of-Division
Minot Minotauros @ Minnesota Magicians – Both teams are on the edge of playoff contention and looking for valuable points in one of five out-of-division match-ups this weekend. Minnesota is in the middle of a season-high nine game homestand, but have won just one of their last five games. The Magicians were swept last weekend by the Aberdeen Wings, while the Minotauros have won four of their last six games, including last Saturday's come-from-behind 6-4 win over Bismarck. The six goals for set a season-high for Minot.
Wenatchee Wild @ Michigan Warriors – Two weeks ago these same two teams met in Wenatchee with both teams winning a game. The Warriors suffered their first loss in regulation in a month and a half on Wednesday in a 5-4 loss at Soo. The Wild have won four of their last six games, including their last game, which was a 5-1 win in Johnstown. Newcomer Tanner Barnes has six points in his last five games for the Wild, while Michigan's Zack Szajner had seven points, including five goals in his last five games.
Soo Eagles @ Coulee Region Chill – The Eagles are coming off an important 5-4 win on Wednesday over the Michigan Warriors, which snapped a six-game losing skid. The Chill were riding a four-game winning streak until last Saturday, when that was broken in a loss and split with Springfield. The Chill are winding down a season-high eight game homestand and sit in a tie for the fourth and final playoff spot in the Midwest with the Magicians. Chill forward Mac Jansen ranks 2nd in the NAHL with 13 goals.
Wichita Falls Wildcats @ Fairbanks Ice Dogs – Something has to give this weekend as two hot teams clash at the Big Dipper Ice Arena in Fairbanks. The Wildcats moved into 2nd place in the South with their sweep of Kenai River last weekend, in which goalie Chase Munroe was named as South Star of the Week. Since returning home, the Ice Dogs have won four in a row and have allowed just four goals in their last four games thanks to goalie Kevin Aldridge, who has started the last six games.
Minnesota Wilderness @ Kenai River Brown Bears – This three game series began on Thursday night with the Brown Bears snapping a six-game losing streak with a 2-1 win as Kris Oldham outdueled Kasimir Kaskisuo in goal. The Wilderness have still not allowed a power play goal against this season, as they are 84 for 84 on the penalty kill. Kaskisuo is still the NAHL's top ranked goalie, leading the league in goals against average and save percentage. Brown Bears forward Albin Karlsson has five points in the month of November, including last night's game-winning goal.