2013 NAHL Draft set for Tuesday, June 4th at 1pm (cst)
June 3, 2013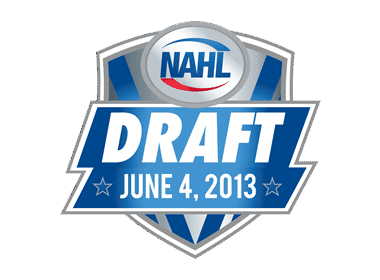 The 2013 North American Hockey League (NAHL) Entry Draft will be conducted online on Tuesday, June 4th at 1:00pm (central).
Fans and players can follow the live draft one of three ways:
1)
Listen to the draft live and follow for free online at
www.nahldraft.com
The broadcast will include live pick-by-pick coverage, analysis and interviews with various NAHL coaches and dignitaries.
2)
Following draft results and pick on Twitter by following
@NAHLHockey
on Twitter.
There is no registration process to be eligible for the NAHL Entry Draft. Amateur players less than 21 years of age on December 31, 2013 who are not listed on an NAHL team roster or are listed on an NAHL team roster but played less than 10 NAHL regular season and/or playoff games during the 2012-13 season and did not accept a tender from an NAHL team prior to the 2013 NAHL Entry Draft are eligible for selection in the draft.
Eligible teams shall make selections in each round in reverse order of their finish in the 2012-13 NAHL regular season standings.
The order will be as follows (minus any traded picks):
5.
Wenatchee Wild (was Fresno Monsters in 2012-13)
10.
Springfield Jr. Blues
11.
Wichita Falls Wildcats
12.
Corpus Christi IceRays
13.
Kenai River Brown Bears
15.
Port Huron Fighting Falcons
20.
Rio Grande Valley Killer Bees (was Wenatchee Wild in 2012-13)
*Minnesota Magicians won coin flip over Minnesota Wilderness to select 1st.
The number of players each team is able to draft varies on that team's current roster (protected list) minus the number 30 as of midnight of June 3rd. Leading up to midnight of June 3rd, each team's roster is comprised of veteran players and signed tenders only. For example, if a team has 15 veterans rostered and 8 tenders signed as of midnight of June 3rd (23 total), that team is allowed seven (7) draft picks.