Gongshow Flow of the Month winners for January announced
February 1, 2013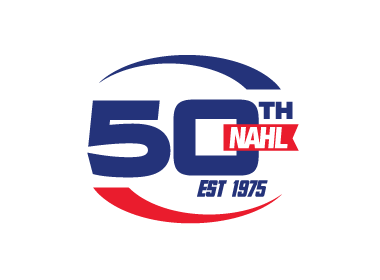 The North American Hockey League (NAHL) announced its Gongshow Flow of the Month winners for January 2013. This month awards go to NAHL player Derek O'Flynn, a defenseman for the Coulee Region Chill and NAHL fan Brendon White.
O'Flynn, who is a 19-year-old defenseman for the Coulee Region Chill from Canton, Michigan, is a solid presence on the blueline for Coulee Region. In 22 games with the Chill this season he has seven assists in 22 games played with Coulee Region.
This is O'Flynn's second season in the NAHL, as he spent all of the 2011-12 season with the Michigan Warriors. He began this season with Michigan, but was traded to Coulee Region after the first three games. O'Flynn has racked up 18 career assists in 69 career NAHL games, but is still looking for his first NAHL goal.
One of the best things about O'Flynn's flow is that not only is it long and wavy, but it is also a nice fire engine red. Rarely, do we see this type of flow on a redhead, but O'Flynn pulls it off very well. On top of that, he has a nice, trimmed red beard to match, making him a true hockey player spectacle.
As for the fan Brendon White, it brings back shades of Andy Gibb for the older generation out there.
With the NAHL regular season two-thirds over, we now look to the remainder of the 2012-13 season and embark on one of our favorite times of the year… playoff flow. In order to have good flow for the playoffs, the process must start in February. Some of the NAHL players may even want to show their flow off at the NAHL Top Prospects Tournament. By now, player's flow should be in full effect and February should create some great styles we look forward to seeing.
To enter the contest for the month of February, submit your best #Flow of the Month pictures by February 28th to @NAHLHockey and @GongshowGear. Two winners will be announced on March 1st. Winners will receive a Gongshow Gear hat.
Gongshow is the exclusive sponsor of the Flow of the Month promotion exclusively on the NAHL and Gongshow Twitter sites. Fans and players alike are encouraged to submit photos of their best 'hockey hair' or 'flow' via Twitter by the end of every month during the regular season.
Gongshow Gear Inc. (Gongshow) is the Official Lifestyle Hockey Apparel of the NAHL. Gongshow is also the sponsor of the NAHL TV platform on the NAHL website at NAHL.com. Gongshow is recognized as the hockey good industry's premier manufacturer of innovative, high quality, fashionable and trend setting clothing apparel for hockey athletes of all ages and abilities.