Wildcats win on Wednesday to sweep IceRays
January 16, 2013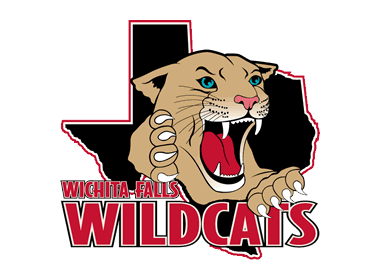 Corpus Christi 3 @ Wichita Falls 4 (SO) – The Wichita Falls Wildcats completed a mid-week home sweep of the Corpus Christi IceRays with a 4-3 shootout win on Wednesday night. The win pulled the Wildcats to within four points of the fourth and final playoff spot in the South Division, currently occupied by Corpus Christi. Overall, the Wildcats gained three points in the standings on the IceRays in the two games.
After just one combined goal between the two teams the night before, Wednesday would be different as it took just over two minutes to open the scoring as Conor O'Neil gave the Wildcats a 1-0 lead. Corpus Christi would answer back twice later in the period to take a 2-1 lead on goals from Grant Hutton and Brandon Smith.
The second period was controlled by the Wildcats, as they outshot Corpus Christi 14-10 and regained the lead with two goals. The first goal came off the stick of Eliot Grauer, who would also be heard from later and the other came from Will Vosejkpa.
The IceRays would tie the game midway through the 3rd period as Emil Romig scored an assisted goal to tie the game at 3-3. The IceRays would have a late power play in the 3rd period and into overtime, but could not covert, sending the game to a shootout.
In the shootout, Wildcats goaltender Evan Cowley stopped all five IceRays shooters, while Grauer managed to score the only goal for Wichita Falls, giving them the shootout win and sweep. Cowley made 26 saves in the win, while Hayden Stewart played well in the loss making 39 saves.