Kenai River forward Karlsson makes NCAA DI commitment
October 5, 2012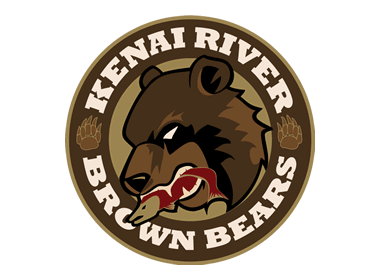 One month into the season, the Kenai River Brow Bears, proud members of the North American Hockey League (NAHL), announce that rookie forward Albin Karlsson has committed to play college hockey at NCAA Division I Niagara University in the fall of 2014.
It didn't take long for Karlsson, an 18-year-old forward from Uppsala, Sweden, to be noticed by scouts this early into the season. On September 13th at the NAHL Showcase, Karlsson skated in his first ever game in the United States against the Johnstown Tomahawks. After scoring two goals, Niagara University, among other NCAA DI teams had their eye on the young Swede.
"Niagara was interested from the start," said Brown Bears Head Coach Oliver David. "We stayed down in the lower 48 states to conclude the road trip with a weekend in Springfield and the following weekend in Janesville, where Niagara again came to watch Karlsson play. They really liked what they saw." Karlsson, the first ever Brown Bear to receive a full four-year scholarship to an NCAA DI school, will start with the Niagara University Purple Eagles in the fall of 2014.
Karlsson made his way to the United States to play juniors with the assistance of Scandinavian Hockey Consulting (SHC). SHC has had a great relationship with Kenai River over the past few years placing Mathias Dahlstrom, Erik Persson, Johan Skinnars and now Albin Karlsson with the NAHL team. Karlsson also gives much gratitude to SHC and the Brown Bears for giving him the opportunity to play in the league. Coming over for a once in a lifetime experience to play hockey state side, his dream turned into reality after acquiring the full scholarship within the first month.
In the short amount of time that Karlsson has been with the Brown Bears, Coach David speaks volumes about the dynamic skilled forward. "He has contributed offensively to our team from day one. He is a threat each and every time he has the puck and his skating ability is second to none. Albin is very smart and his hockey knowledge is well above average, so it was no surprise that somebody was able to see that early on. The type of play here is 180 degrees different from what he is used to in Sweden. That shows how quickly he can pick things up."
Coach David speaks the same about how Karlsson will impact Niagara University when he suits up for them in two seasons. "He undoubtedly will be able to play with anyone. He is an intellectual type of person and can adapt quickly. His strongest attribute is his mind and how he is able to figure out what needs to be done and how it needs to be done. When he joins Niagara, I believe that he will be capable of contributing offensively right away."
Over the next two years, Karlsson said his goal is to become a more physical player while adapting to the faster style of play in the states. As for his early and unexpected plan to commit to a University Karlsson said, "I am honored that Niagara selected me."