24 Teams in 24 Days: Soo Eagles
August 20, 2012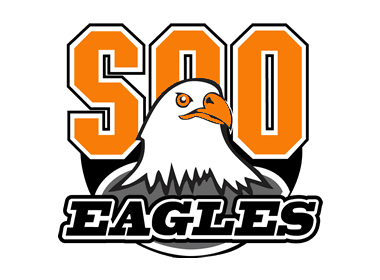 The '24 in 24' series features an in-depth look into all 24 NAHL teams, with a new team being highlighted daily, leading all the way up until the start of the regular season on Saturday, September 8th.
'24 in 24' will go in-depth into each NAHL team and will include interview with all 24 NAHL head coaches as they prognosticate and break down their outlook for the upcoming season.
Soo Eagles
A new era begins in the upper peninsula of Michigan as the Soo Eagles join the NAHL for the 2012-13 season. Sault Ste. Marie, Michigan has a rich and storied hockey tradition and the NAHL is no stranger to the area as the Soo Kewadin Indians played in the NAHL from 1995-2005. The Eagles, who had previously played in the Northern Ontario Junior Hockey League (NOJHL), acquired and relocated the Traverse City North Stars when they were granted an NAHL membership this past spring.
Behind the bench will be head coach and general manager Bruno Bragagnolo, who says that the move to the NAHL is nothing but a positive one. "I have always been a fan of the NAHL and was very familiar with the league," said Bragagnolo. "The NAHL has a great reputation and track record of being a league that can develop and advance players, which is our primary focus here."
When Bragagnolo was building a team built for play in the NAHL this season, he said that the addition of the players from Traverse City was a big help. "Having a good core of players with NAHL experience that played in Traverse City definitely impacted the way I recruited for this upcoming season," said Bragagnolo. "We didn't alter anything we normally do. We wanted to find some really good and talented players who could also be a nice compliment to those players that were coming over from Traverse City. My scouting staff of Tom Farnquist and John Wiseman did a great job of searching all over the country."
Although fans in the NAHL may be unfamiliar with the style of play the Soo Eagles will bring to the ice, Bragagnolo said that it boils down to just a few basic things. "I have always been known for having hard working and disciplined teams. I never want to leave a game and thinking we have been out-worked," said Bragagnolo. "We also try to be creative offensively. I want the players with skill to be able to free-wheel a little bit and make things happen in the offensive zone."
The Eagles just completed their final camp this past weekend in Sault Ste. Marie and Bragagnolo said there were some tough decisions. "Anytime you have tough decisions to make, it is a good thing, but I am happy with the depth we had in camp. We have some good size, some good speed and some grit."
Bragagnolo indicated that the core of the offense will revolve around NAHL veterans Jared Van Wormer, Alex Taulien, Chris Waterstreet, Eric Rivard, Jake Peacock and Kyle Loridon, who all played for Traverse City last season. Van Wormer led the North Stars in scoring last season with 46 points in 59 games played and Rivard was second in goals with 21. Dallas McLaughlin is a talented forward that played with Soo in the NOJHL last season who will return this season and Bragagnolo was also quick to praise rookie forwards Mike Sabatini and John Nugent, who was a Soo draft pick earlier this summer. Denver Pierce and Cole Hyrsky are two local forwards that Bragagnolo said could also end up on the roster.
On the blueline, Bragagnolo said that he has a group of four veteran defensemen that he expects to make an impact from the start. Traverse City hold-overs Nathan Harris and Kyle Froese will return and junior hockey veterans Michael Lant and Cody Von Rueden, who has three years playing experience in the USHL and NAHL, are experienced and seasoned on defense. Draft pick Alex Robert and Patrick Gazzillo should be rookie defensemen who will also make an impact.
However, Bragagnolo admitted that the strength of the team this season may lie between the pipes. The Eagles will begin the season with two NAHL veterans in goal with Tyler Marble and Zach Nagelvoort. "We have a lot of confidence in both goaltenders and tried to build a team from the net out, so we feel like both can get the job done and both looked great in camp," said Bragagnolo.
The foundation for success for the Soo Eagles in the NAHL is something that Bragagnolo is clear in his vision. "This is all about the players. You would like to have moving players onto the next level and winning go hand-in-hand, but the first priority has to be development. We are not going to give up developing players just so we can win at all costs," said Bragagnolo. "The other thing you have to have is a strong community that supports the team and we are blessed to have one here in Sault Ste. Marie. We have such great volunteers and support, and it is one of the reasons we decided to move to the NAHL."
Next up in the NAHL 24 Teams in 24 Days series, the Port Huron Fighting Falcons.