NAHL announces Combat Hockey 3 stars of the week
December 5, 2011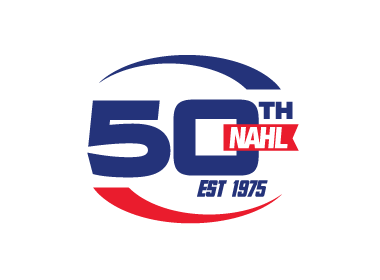 The North American Hockey League (NAHL) today announced the Three Stars of the Week presented by Combat Hockey for the week ending December 4, 2011. The Three Stars of the Week is a weekly feature during the 2011-12 regular season that honors the top performing players each week of the regular season as nominated by their respective teams.
1st Star: Chris Kerr, forward, Wenatchee Wild
Kerr, 19, had a week to remember in helping Wenatchee take five of six points in three games at home against the Dawson Creek Rage. The Penticton, British Columbia native began his weekend by posting a goal and an assist in Wenatchee's 4-3 overtime win on Friday night. The next night, Kerr assisted on a goal in the Wild's 4-3 overtime loss to the Rage. However, Kerr (6'0/185) saved his best performance of the week for last as on Sunday he scored four goals and added an assist for five points in Wenatchee's 6-1 win over Dawson Creek. In the process, Kerr become the first player in Wild history to record a four-goal game. For the week, Kerr had five goals (including one game-winner) and three assists for eight points in three home games and was +3. "Chris has been very consistent and got moved onto the #1 power play unit, so he was able to produce accordingly," said Wild head coach John Becanic. "We rely on him for offense and he has been able to produce because he works hard and has a nose for the net."
2nd Star: Brian Christie, forward, Topeka Roadrunners
Veteran RoadRunners forward Brian Christie, 19, almost single-handedly helped take down the Corpus Christi IceRays as Topeka completed a weekend road sweep this past weekend. On Friday, the West Chester, Pennsylvania native recorded two goals, including the game-winning goal as time expired in overtime, to lead the 'Runners to a 3-2 overtime win. Christie (6'2/180) had won a face-off in the offensive zone with 1.1 seconds remaining and ripped home the game-winner as the horn sounded. The next night, Christie would again score the game-winning goal late in the 1st period and also add an assist in Topeka's 4-1 win. For the weekend, Christie scored three goals, including both game-winners, and added an assist for four points and was also a +4 on the weekend. Christie leads the RoadRunners in goals with 14 this season. "Brian is playing a lot of minutes right now, but at the same time he has stepped up," said RoadRunners head coach Scott Langer. "He is seeing the game well because is playing good, two-way hockey. He executed the game-winning goal on Friday to perfection, but it comes from hard work and being prepared for that situation."
3rd Star: Connor Hellebuyck, goaltender, Odessa Jackalopes
Odessa Jackalopes goaltender Connor Hellebuyck continues to be a shining light for the Jackalopes this season and this past weekend was no exception. Hellebuyck, 18, helped the Jackalopes take three of four points over the weekend in a series with the Wichita Falls Wildcats. The points helped Odessa move into the 4th and final playoff spot in the South Division. On Friday night, Hellebuyck (6'4/185) made 45 saves in a 4-3 shootout loss to the Wildcats. The Commerce, Michigan native also stopped seven of nine shooters in the shootout. On Saturday, Hellebuyck was even better, making 39 saves in a 2-1 win over Wichita Falls. For the weekend, he posted a 1-0-1 record, stopping 84 of 88 shots for a 95.5% save percentage. To top the weekend off, Hellebuyck announced his commitment to NCAA Division I University of Massachusetts-Lowell, becoming the first player in the Jacks NAHL history to commit to an NCAA Division I school. "I think a lot of pressure was on Connor with scouts in the stands this past weekend, but he played like he has all season long… calm, cool and collected and under control," said Odessa General Manager Joe Clark.
Other players nominated were (alphabetical): Charles Baldwin, forward, New Mexico Mustangs – Brandon Brossoit, forward, Alaska Avalanche – Adam Chapie, forward, New Mexico Mustangs – Christian Folin, defenseman, Austin Bruins – Evan Hesse, forward, Alaska Avalanche – Brandon Lubin, defenseman, Amarillo Bulls – Steve Obarzanek, forward, Aberdeen Wings – Mike Parnell, defenseman, Aberdeen Wings – Shawn Pauly, forward, Wenatchee Wild – Danny Ray, defenseman, Bismarck Bobcats – John Rey, defenseman, Amarillo Bulls – Zach Schrotenboer, forward, Chicago Hitmen – Jared Van Wormer, forward, Traverse City North Stars – Dan Zawacki, forward, Bismarck Bobcats.