Wilderness defenseman Ozolins to represent Latvia at World Juniors
December 24, 2022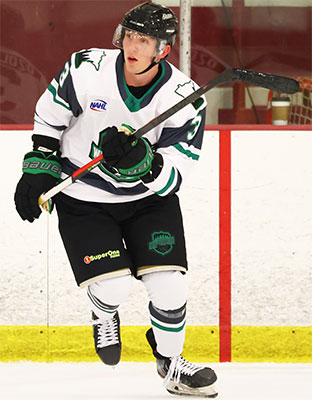 When the world's best under 20 hockey players gather for the World Junior Championship next week, they will once again include NAHL and Minnesota Wilderness defenseman Gustavs Ozolins.
Ozolins, a native of Riga, Latvia, will skate for Team Latvia in the WJC for the second time in his career. The Latvians kick off the 2023 tournament Monday vs. Team USA in Moncton, NB. He also participated in the 2022 tournament which was held last August in Edmonton and Red Deer, AB.
"Going back to the World Juniors tournament is really exciting", said Ozolins. "Every time I get to put on my national team's jersey is a special feeling, I feel very honored and blessed for the opportunity I have been given. That moment when you are going up against the best junior hockey players in the world is everything I play hockey for."
The 19-year-old played a big part of Latvia's performance in last summer's WJC. Ozolins skated in all five of Latvia's games, posting 1 goal and 1 assist. Latvia surprised many by upsetting Czechia in the preliminary round of the tournament, allowing it to advance to the quarter finals. There, they fell to Team Sweden 2-1, with Ozolins notching his team's only red-lighter.
Latvia was originally not included in 2022's 10-team field. An opening came when Russia and Belarus were disinvited from the tournament, due to their participation and support for the Ukraine invasion. Latvia proved it was worthy then, and Ozolins says they have high expectations for their encore performance beginning Monday.
"The expectations for our team are to go out there, play our hearts out every day and prove that we belong on the ice with those players. On top of that, getting as much wins as possible and get as far as possible."
Ozolins is committed to play in the NCAA with Bemidji State. In 24 games with the Wilderness, he has recorded two goals and 12 assists for 14 points. He'll be returning to the Wilderness upon the conclusion of the tournament.