NAHL players well represented at NHL Development Camps
July 15, 2022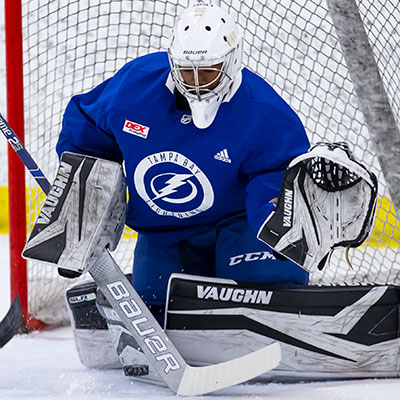 Every summer following the NHL Draft provides the annual opportunity for dozens of NAHL alumni to attend annual development and prospect camps across the NHL.
All the NHL teams hold their development/prospect camps in July. Former NAHL players were once again a significant part of the mix as over 70+ alumni are currently at camps.
The numerous NAHL alumni at NHL development/prospect camps come on the heels of another memorable season of advancement for the NAHL.
With 328 NCAA commitments to date, the NAHL has now had over 300+ NCAA commitments the last six straight seasons. That also includes 251 NCAA Division I commitments this past season.
The league also saw five players with NAHL experience selected in the 2022 NHL Draft held last week in Montreal, Quebec.
Below is a team list of NAHL alumni at 2022 NHL development/prospect camps:
*Winnipeg Jets and New York Islanders have not listed their prospect camp rosters
Anaheim Ducks
Kyle Kukkonen, Minot Minotauros, 2020-21
Christian Stoever, New Jersey Titans, 2020-21
Arizona Coyotes
Nathan Smith, Aberdeen Wings, 2016-17
David Breazeale, Shreveport Mudbugs, 2018-21
Seth Eisele, Lone Star Brahmas, 2018-19
Bradley Marek, Springfield Jr. Blues, 2017-18
Boston Bruins
Joseph Abate, Janesville Jets, 2016-17
Porter Schachle, Danbury Jr. Hat Tricks/Kenai River Brown Bears, 2018-21
Brandon Bussi, Amarillo Bulls/New Jersey Titans, 2016-18
Buffalo Sabres
Josh Passolt, Aberdeen Wings, 2014-15
Zach Stejskal, Wilkes-Barre/Scranton Knights, 2018-20
Calgary Flames
Croix Kochendorfer, Chippewa Steel, 2021-22
Cooper Black, Odessa Jackalopes/Maryland Black Bears, 2019-21
Carolina Hurricanes
Eric Cooley, Amarillo Bulls, 2016-17
Nicholas Nardella, Janesville Jets, 2018-20
Chicago Blackhawks
Luke Mobley, Fairbanks Ice Dogs, 2017-19
Colton Huard, Aberdeen Wings, 2017-20
Ludvig Persson, Lone Star Brahmas, 2019-20
Colorado Avalanche
Paxton Geisel, St. Cloud Norsemen, 2020-21
Columbus Blue Jackets
Roman Ahcan, Brookings Blizzard, 2016-17
Detroit Red Wings
Trenton Bliss, Coulee Region Chill, 2016-17
A.J. Vanderbeck, Lone Star Brahmas, 2014-15
Connor Murphy, Topeka RoadRunners, 2017-18
Edmonton Oilers
Noah Ganske, Minnesota Magicians/Minot Minotauros, 2017-18
Ryan Fanti, Minnesota Wilderness, 2017-19
Florida Panthers
Ture Linden, Lone Star Brahmas, 2017-18
Los Angeles Kings
Luke Pavicich, Kenai River Brown Bears, 2020-21
Minnesota Wild
Max Strand, St. Cloud Norsemen, 2020-22
Ryan Remick, Chippewa Steel, 2021-22
Kyle McClellan, Austin Bruins, 2018-19
Montreal Canadiens
Jakub Dobes, Topeka Pilots, 2018-20
Nashville Predators
Ben Strinden, Minot Minotauros, 2019-20
Matthew Barbolini, Janesville Jets, 2017-18
Spencer Cox, Chippewa Steel, 2020-21
Ethan Haider, Minnesota Magicians, 2017-19
New Jersey Devils
Garrett Van Wyhe, Wichita Falls Wildcats, 2015-16
Trevor Russell, Aberdeen Wings, 2019-21
Akira Schmid, Corpus Christi Ice Rays, 2018-19
Cole Brady, Janesville Jets, 2018-19
New York Rangers
Samuel Malinski, Bismarck Bobcats, 2017-19
Tanner Palocsik, Amarillo Bulls, 2016-17
Ottawa Senators
Jakov Novak, Janesville Jets, 2016-18
Philadelphia Flyers
Colin Felix, Janesville Jets, 2016-17
Hunter McDonald, Corpus Christi Ice Rays, 2019-20
Keaton Pehrson, Austin Bruins, 2016-17
Pittsburgh Penguins
Zam Plante, Minnesota Wilderness, 2020-21
Max Sasson, Brookings Blizzard, 2017-18
Tommy Nappier, Springfield Jr. Blues, 2015-16
San Jose Sharks
Owen Millward, Janesville Jets, 2020-22
Seattle Kraken
Maxim Andreyev, New Jersey Titans, 2016-17
Barrett Hall, Minnesota Wilderness, 2021-22
Ondrej Pavel, Minot Minotauros, 2017-18
St. Louis Blues
Jacob Barczewski, Janesville Jets, 2016-17
Garrett Dahm, Austin Bruins, 2016-21
Brendan Furry, Amarillo Bulls, 2016-17
T.J. Friedmann, Springfield Jr. Blues, 2014-15
Jack Caruso, Fairbanks Ice Dogs/Johnstown Tomahawks, 2018-20
Tampa Bay Lightning
Gustavs Grigals, Shreveport Mudbugs, 2017-18
Arthur Smith, Lone Star Brahmas, 2021-22
Toronto Maple Leafs
Noah Van Vliet, El Paso Rhinos, 2021-22
Vancouver Canucks
Jack Jensen, Minnesota Magicians, 2018-19
Ty Young, Maryland Black Bears, 2021-22
Vegas Golden Knights
Isaiah Saville, Minnesota Magicians, 2017-18
Will Riedell, New Jersey Titans, 2015-17
Wilmer Skoog, Maryland Black Bears/Minot Minotauros, 2018-20
Steve Holtz, Wilkes-Barre/Scranton Knights, 2016-17
Joey Larson, New Mexico Ice Wolves, 2020-21
Washington Capitals
Cam Thiesing, Chippewa Steel, 2018-19
Benton Maass, Fairbanks Ice Dogs, 2016-17
Mitchell Gibson, Lone Star Brahmas, 2017-18