Northeast forward Cooper makes NCAA commitment
June 8, 2021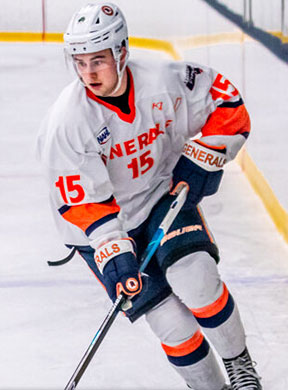 The Northeast Generals of the North American Hockey League (NAHL) are excited to announce that veteran forward and Assistant Captain Tyler Cooper has committed to play NCAA Division III hockey at St. Olaf College.
Cooper, 20, joined the Generals after a successful career at Shattuck St. Mary's racking up 44 points in 50 games his senior season.
During his rookie year with the Generals in 2019-20, he picked right up where he ended at Shattuck, with offensive production. In 46 games, the 5'11/180 lbs. native of Toronto, ON, put up 14 goals and 17 assists for 31 points. The output earned him East Division All-Rookie team honors.
The 2020-21 season did not start out as hoped. Battling a very serious injury Tyler was able to work his way back into the lineup sooner than expected. His effort was always there even while he was working himself back into game readiness. But he came on late and was able to finish the season with 10 goals and 10 assists for 20 points in 45 games.
Not only did Cooper have a ton of success within the NAHL but he also did on the International stage. He played for Team Great Britain in the World Juniors in 2016-17, 2018-19 and 2019-20. Tyler won a Bronze medal in the 2018-19 games and was named Captain for the 2019-20 games where he helped lead Great Britain to a Silver Medal! In international play Cooper ended up with 9 goals and 7 assists for 16 points in 15 games.
"Tyler was a fantastic General. Just a great kid on and off the ice. He had an outstanding rookie season. I am such a big fan of Tyler as a person. Funny, has a ton of humility and is a great role model for the younger players which is why he was a Captain this year. I know we all had high hopes of a D1 commitment but with everything that has been going on with the NCAA and the injury he had to battle at the beginning of the year we are beyond thrilled that Tyler will be playing at St. Olaf next year. Tyler has made a lasting impact on the organization and has helped set the standard for what is means to be a member of the #GensFamily," said head coach Bryan Erikson.
Click here for an updated NAHL to NCAA commitment list