January 15, 2021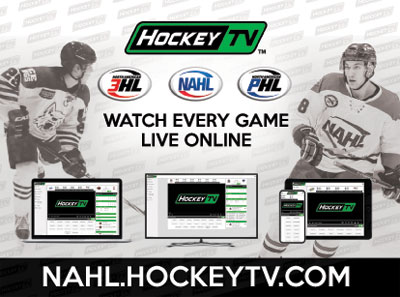 It is the busiest weekend of the year to date in the NAHL as 19 games are on the slate from Friday through Sunday.
It has been another big week of NCAA Division I commitments for the league as three more players made NCAA Division I commitments, bringing the current season total to 202 players who are committed to playing NCAA Division I hockey in 2020-21.
After a week off, the Central Division returns to action this weekend as all six teams take to the ice. The teams with the NAHL's best record, the Aberdeen Wings, put their 17-1-0 record on the line as they host the St. Cloud Norsemen for two games. The Bismarck Bobcats return home to host the Fairbanks Ice Dogs from the Midwest Division. The Minot Minotauros also are back at home as they also face an out-of-division opponent as the Kenai River Brown Bears travel to Minot. The Minnesota Wilderness take to the ice for the first time since November 20th as they are in Janesville to face the Jets on Friday and Saturday and then return home on Sunday to host the Austin Bruins on Sunday.
In the East Division, the Maryland Black Bears will look for a series sweep early on Friday as they finish out their series in Maine against the Nordiques. The Black Bears won Thursday's game, 5-1. The other series in the East features the Johnstown Tomahawks travel to New Jersey to take on the Titans.
In the Midwest Division, things got started early yesterday as the Magicians beat the Steel in overtime on Thursday, 4-3. The two teams finish their series on Friday. All the other series on Friday and Saturday feature out-of-division action, as Fairbanks is in Bismarck, Kenai River is in Minot, and the Jets host the Wilderness.
In the South Division, it is a full slate of games. The Shreveport Mudbugs continue their three-game series against the New Mexico Ice Wolves after picking up a 4-1 win on Thursday against New Mexico. The Odessa Jackalopes look to snap their four-game slide as they take on the 1st place Lone Star Brahmas. The final series features the Amarillo Bulls in Wichita Falls to take on the Warriors, who look to snap their three-game slide.
Watch all the action on HockeyTV
Download the all new NAHL App today! (iOS - Google Play)
FRI, JANUARY 15
Maryland at Maine - 12:00 PM EST
Johnstown at New Jersey - 7:30 PM EST
MN Wilderness at Janesville - 7:00 PM CST
Chippewa at MN Magicians - 7:00 PM CST
Amarillo at Wichita Falls - 7:05 PM CST
New Mexico at Shreveport - 7:11 PM CST
St. Cloud at Aberdeen - 7:15 PM CST
Fairbanks at Bismarck - 7:15 PM CST
Odessa at Lone Star - 7:30 PM CST
Kenai River at Minot - 8:05 PM CST
SAT, JANUARY 16
Johnstown at New Jersey - 7:00 PM EST
MN Wilderness at Janesville - 7:00 PM CST
Amarillo at Wichita Falls - 7:05 PM CST
New Mexico at Shreveport - 7:11 PM CST
St. Cloud at Aberdeen - 7:15 PM CST
Fairbanks at Bismarck - 7:15 PM CST
Odessa at Lone Star - 7:30 PM CST
Kenai River at Minot - 8:05 PM CST
SUN, JANUARY 17
Austin at MN Wilderness - 7:15 PM CST