December 16, 2020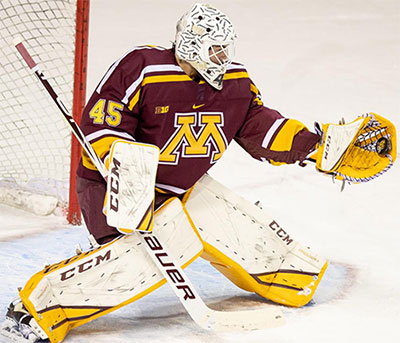 Atlantic Hockey Goalie of the Week: Mike Corson, Niagara (Springfield Jr. Blues)
In his first start for the Purple Eagles, Mike Corson led Niagara to a win over #7 Clarkson last Wednesday. He stopped 23-of-24 shots faced, including 11 in the second period.
Atlantic Hockey Rookie of the Week: Dante Sheriff, Mercyhurst (Austin Bruins)
Dante Sheriff dressed for the first two games of his collegiate career in Mercyhurst's weekend series against #7 Clarkson and scored goals in both. He scored his first career goal late in the third period, giving the Lakers a 3-2 lead before Clarkson would come back to win 4-3 in overtime. He also got Mercyhurst on the board in Sunday's loss to the Golden Knights.
B1G First Star: Jack LaFontaine, Minnesota (Janesville Jets)
LaFontaine backstopped the then-No. 4/4 Golden Gophers to their fourth sweep of the season, picking up a pair of wins on the road at then-No. 5/5 Michigan and extending his personal winning streak to 10 games. He recorded his second shutout of the season on Wednesday after tying his season high with 34 saves, stopping 67 of 68 shots throughout the entirety of the series. LaFontaine led the nation last weekend in save percentage (.985) and goals-against average (0.50) among goalies with more than one appearance.
Hockey East Defensive Player of the Week: Tomáš Vomáčka, UConn (Corpus Christi IceRays)
Vomacka made 59 saves on 64 shots to earn four out of six points from No. 2/2 Boston College. The junior stopped 32 shots on Friday, including all 19 he saw in the first period, as the Huskies lost, 4-3, in overtime at Boston College. He came back on Saturday and kicked out 27 shots and kept BC off the scoreboard for the first two periods in a 3-1 win over the Eagles.
NCHC Goalie of the Week: Ludvig Persson, Miami (Lone Star Brahmas)
Persson was rock-solid for the RedHawks in Week 2 of the Pod, posting a 1-1-0 record, including backstopping Miami to its first win of the season. In his first start of the week, he made 31 saves and allowed three goals, only two at even strength, in a loss to No. 3 Minnesota Duluth. On Saturday, Dec. 12, the Swede turned away all 30 shots he faced for his first career win and shutout, a 1-0 victory over then-No. 18 Omaha. Persson posted a .953 save percentage in his two starts and a 1.53 goals-against average, stopping 61 of 64 shots faced. He is now 1-2-0 on the season with a .946 save percentage and a 1.68 GAA, both of which lead all rookie netminders nationally.
Former Wilderness goalie Ryan Fanti is finding success with Minnesota-Duluth (watch)