December 11, 2020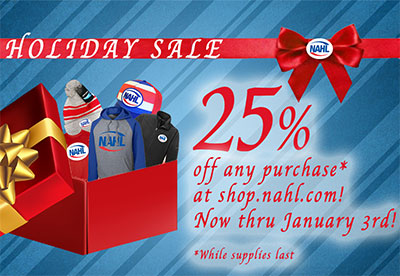 The NAHL continues its 2020-21 regular season this weekend with 12 games on Friday and Saturday as the action rolls on.
It has been an incredible month of December thus far for the league, which was seen 11 NCAA Division 1 commitments in the last 12 days. The current season total stands at 174 players who are on 2020-21 NAHL rosters that are committed to play NCAA Division 1 hockey.
In the Central Division this weekend, teams will try and gain ground on the 1st place Aberdeen Wings, who are idle. The 2nd place Minot Minotauros will play host the St. Cloud Norsemen. The Norsemen will be playing in their first regular season game since October 30th. The other series has the Bismarck Bobcats hosting the Austin Bruins, with the two clubs separated by just a point in the standings for 3rd and 4th place respectively.
In the East Division, 1st place is on the line this weekend as the Maine Nordiques host the Northeast Generals for two more games. The Nordiques edged out the Generals in a game earlier this week as they won 4-3 in overtime on Wednesday. The Maryland Black Bears, who are tied for 1st place with the Nordiques, are on the road in Johnstown to take on the Tomahawks, who sit just one point behind both the Black Bears and Nordiques for 1st place.
In the South Division, the Shreveport Mudbugs finally will some home ice as they host the Odessa Jackalopes for two games. The other series as the Lone Star Brahmas playing the New Mexico Ice Wolves as the Brahmas look to extend their three-game winning streak, while New Mexico enters the series on a six-game slide.
Watch all the action on HockeyTV
Download the all new NAHL App today! (iOS - Google Play)
FRI, DECEMBER 11
Northeast at Maine - 7:00 PM EST
Maryland at Johnstown - 7:30 PM EST
St. Cloud at Minot - 7:00 PM CST
Odessa at Shreveport - 7:11 PM CST
Austin at Bismarck - 7:15 PM CST
New Mexico at Lone Star - 7:30 PM CST
SAT, DECEMBER 12
Northeast at Maine - 1:00 PM EST
Maryland at Johnstown - 7:00 PM EST
St. Cloud at Minot - 7:00 PM CST
Odessa at Shreveport - 7:11 PM CST
Austin at Bismarck - 7:15 PM CST
New Mexico at Lone Star - 7:30 PM CST