NAHL announces monthly player awards for February 2020
March 5, 2020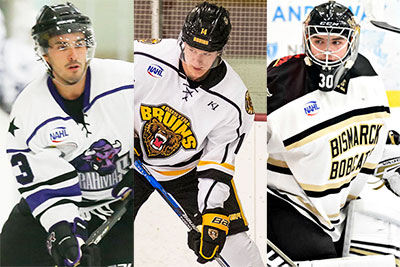 The North American Hockey League (NAHL) has announced its monthly player awards for the month of February. The Bauer Hockey NAHL Forward of the Month is Matt Guerra from the Lone Star Brahmas. The Bauer Hockey NAHL Defenseman of the Month is Josef Mysak from the Austin Bruins. The Vaughn NAHL Goaltender of the Month is Andrew Miller from the Bismarck Bobcats. Only players who are nominated by their respective teams are considered for the NAHL monthly awards.
Bauer Hockey NAHL Forward of the Month: Matt Guerra, Lone Star Brahmas
It was a memorable month for Lone Star Brahmas forward Matt Guerra. The 20-year-old from Sanford, Florida, led the NAHL in scoring during the month with 17 points (6 goals, 11 assists) in nine games played. Four of Guerra's six goals during the month were game-winning goals. Guerra (5'10/181) was also selected to and played in the 2020 NAHL Top Prospects Tournament for the South Division team, where he picked up three assists in two games. In the days following the event, Guerra announce his NCAA Division 1 commitment to Robert Morris University. Currently, Guerra is tied for 2nd in NAHL scoring with 59 points (17 goals, 42 assists) in 49 games played. "Matt has been playing good two-way hockey and it has been turning into offense. He is leading our team by example and has developed into an elite player as the season has progressed. I thought he played great at Top Prospects and look forward to him having a great rest of the season," said Brahmas head coach Dan Wildfong.
"I thought the month was one of the best of my career and phenomenal. The opportunity given to me by the league to play in the Top Prospects Tournament is one that I will remember forever and ultimately it paid off in a commitment to Robert Morris and I could not be happier," said Guerra. "The entire experience of Top Prospects was really cool and there were a lot of talented players there who are mostly in the same situation I am. I thought the level of play was really high and I hope it helps me become a better player for my team this season. Dan (Wildfong) has really worked hard with me to focus on becoming a better two-way player and that has paid off into more scoring and more attention to details to help my team win and succeed."
Runner-Up: Matt Allen, Amarillo Bulls
Honorable Mention (alphabetical): Cannon Green, Maine Nordiques – Quinn Green, Topeka Pilots – Cooper Haar, Aberdeen Wings – Oliver Kjaer, Fairbanks Ice Dogs – Chris Konin, Minnesota Magicians – Hugh Larkin, Austin Bruins – Parker Lindauer, Janesville Jets – Gerard Marretta, Northeast Generals – Anthony Mastromonica, WBS Knights – Aaron Myers, Minnesota Wilderness – Michael Outzen, New Jersey Titans – Logan Ritchie, Kenai River Brown Bears – Adam Stacho, Bismarck Bobcats – Bennett Stockdale, Johnstown Tomahawks
Bauer Hockey NAHL Defenseman of the Month: Josef Mysak, Austin Bruins
Austin Bruins defenseman Josef Mysak, 20, had a big month of February, recording 10 points (3 goals, 7 assists) in nine games played to go along with a +2 rating. The Niagara University recruit and 6'3/205 lbs. native of Litvinov, Czech Republic, continued his resurgent and solid play this season, helping the Bruins move into 3rd place in the Central Division. So far during the 2019-20 season, Mysak is tied for 5th among NAHL defensemen in scoring with 35 points (13 goals, 22 assists) in 49 games played. "Josef has improved more and more each year and he has been a leader for us all season long. He had a really good month offensively and we need him to continue to play well down the stretch. Niagara is getting a high-end defenseman and an outstanding person," said Bruins head coach Steve Howard.
"I think one of the major improvements in February that helped me out specifically was the improvement of our special teams, particularly the power play. I have to credit my teammates because I think when you go up and down the line-up, all of them really stepped up and set me up with some great opportunities to be successful," said Mysak. "I have a lot of confidence in my game right now and am not afraid to join the rush and take come chances offensively because I know we have guys that will back me up and cover me. I think we are capable of beating anyone in the league, so if we continue to play well and play with confidence we should have success in the playoffs."
Runner-Up: Mick Heneghan, Northeast Generals
Honorable Mention (alphabetical): Malik Alishlalov, Johnstown Tomahawks – Ole Andersen, New Jersey Titans – Noah Carlin, Amarillo Bulls – Nate Clark, Bismarck Bobcats – Antonio Dipaolo, Aberdeen Wings – Timothy Erkkila, Fairbanks Ice Dogs – Jordon Halverson, Janesville Jets – Kimball Johnson, Minnesota Wilderness – Brett Oberle, Minnesota Magicians – Max Osborne, Kenai River Brown Bears – Luc Salem, Topeka Pilots – Casper Soderling, Maine Nordiques – Jordan Strand, WBS Knights
Vaughn NAHL Goaltender of the Month: Andrew Miller, Bismarck Bobcats
For the second time this season, Bismarck Bobcats goaltender Andrew Miller, 20, has been named as the NAHL's Goalie of the Month. The 5'11/183 lbs. native of Boulder, Colorado, posted a 5-0-1 record during the month, which included making 137 saves on 148 total shots during the month, which was good for a 1.74 goals against average and a .926 save percentage. Miller, who is an NAPHL grad and also committed to play NCAA Division 1 hockey for Minnesota State, had one shutout during the month and currently has a 19-7-4 record this season for the 2nd place Bobcats. Miller is another great example of a NAPHL to NAHL ladder of development success story as prior to this season he played four years in the NAPHL for the Rocky Mountain RoudRiders, which included appearances in the 2018 NAPHL 18U All-Star Game and 2018 NAHL 18U Top Prospects Tournament. "Andrew really stepped up during one of the toughest road swings we've had all year. He gives this team a chance to win every night we he is between the pipes," said Bobcats head coach Layne Sedevie.
"I have really worked hard with some coaches back home and now this year with Layne on more of the mental side of the game to become more consistent. As a goalie, it is a battle mentally because if you have a bad game and you put yourself down you're the only one that's getting in your way. So I still criticize myself but I don't put myself down which allows me to rebound into the next game," said Miller. "I think the leadership in a locker room is one of the best things that a team can have and we most definitely have amazing captains, as well as, other guys that are willing to follow and lead even if they don't wear a letter. That being said, I think we have a lot of character in the room if we're able to bring it all together and work as a unit, we have a great shot of being Robertson Cup Champions."
Runner-Up: Dysen Skinner, Minnesota Magicians
Honorable Mention (alphabetical): Danny Fraga, G, Kenai River Brown Bears – Max Gutjahr, Amarillo Bulls – Isak Johansson, Minnesota Wilderness – Josh Langford, Topeka Pilots – Brett Miller, Austin Bruins – Grant Riley, Janesville Jets – Mattias Sholl, Fairbanks Ice Dogs – Zach Stejskal, WBS Knights – Avery Sturtz, Maine Nordiques – Alex Tracy, Johnstown Tomahawks – Henry Welsch, Aberdeen Wings