Big 3rd period leads Tomahawks to sixth straight win
March 4, 2020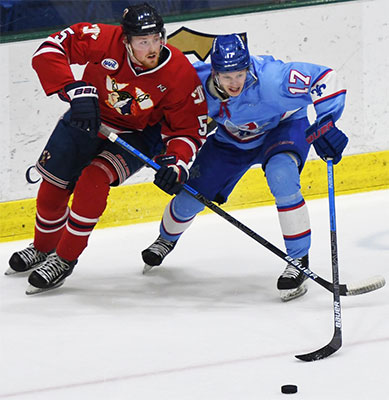 Maine 3 @ Johnstown 6 - The Johnstown Tomahawks increased their winning streak to six straight games as they triumphed over the Maine Nordiques on Tuesday night, 6-3. 1,256 fans and over 100 dogs attended the night's 8th annual Pucks & Paws.
Early in the 1st period, Johnstown's Colin Price scored the first goal of the night, which marked the fourth game in a row that Johnstown has scored first. The Nordiques tied the game :30 seconds later from center Noah Kane, who scored his 21st goal of the season. The Tomahawks regained their one-goal edge as Andrew Murphy scored his 11th goal of the season.
Maine charged out to their first lead of the game midway through the 2nd period as goals from Timmy Kent and Isaiah Fox just :25 seconds apart from one another made it a 3-2 game and chased Johnstown starting goalie David Tomeo from the net. After that, it was all Tomahawks, which included a goal later in the 2nd period from Jesse Lycan to tie the game at 3-3 after two periods.
Racking in the game-winning goal, Johnstown's assistant captain, Carson Gallagher sent a powerful slap shot from the blueline. Increasing Johnstown's lead to 5-3, Reed Stark scored his 4th goal of the season, followed by an empty-net goal by Jesse Lycan, which was his second goal of the game.
Alex Tracy, who came in for Tomeo, earned the win, stopping all nine shots that came his way, while Tomeo made 16 saves. Wes Mankowski made 21 saves in the loss.