February 28, 2020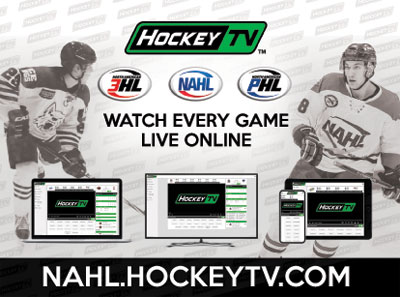 February comes to a close this weekend in the NAHL, and despite only 21 games on the schedule, the importance of the match-ups looms large in the playoff race.
Fresh off the 2020 NAHL Top Prospects Tournament, the NAHL has had a remarkable number of NCAA commitments following the event. In the last 10 days since Top Prospects, 10 different players have committed to play NCAA hockey.
Currently, the NAHL has 201 players who are committed to play NCAA play hockey during the 2019-20 season.
In the Central Division this weekend, the 1st place Aberdeen Wings are on a verge of clinching the first playoff spot as they have a roadtrip to Minot to face the Minotauros, who are tied for 3rd place in the division. The other team tied for 3rd place, the Austin Bruins, will be at home in a key series against the 2nd place Bismarck Bobcats, who are six points ahead. The Minnesota Wilderness are in 5th place, but eight points back of a playoff spot as they host the Chippewa Steel from the Midwest Division for two games. Also hosting a Midwest Division team is the St. Cloud Blizzard, who take on the Minnesota Magicians in a home-and-home series.
In the East Division, the race for the fourth playoff spot is hot and heavy as four teams are separated by just three points for the final spot. Two of those teams, Jamestown and Maryland, face one another in a two-game series in Maryland. The Northeast Generals are just three points back of the final playoff spot as they host the 1st place New Jersey Titans. Johnstown, Maine, and the WBS Knights are all idle this weekend.
In the Midwest Division, the race for the final playoff spot has also heated up as the Janesville Jets and Minnesota Magicians are tied for the final spot. The Jets will host the Springfield Jr. Blues, while the Magicians take on the St. Cloud Blizzard in a home-and-home series. The Chippewa Steel look to increase their lead for 2nd place as they are on the road to face the Wilderness on Friday and Saturday, then back home on Sunday for a game against the Magicians. Fairbanks and Kenai River are idle.
In the South Division, the race for the division title continues as the 1st place Amarillo Bulls host the 3rd place Topeka Pilots, while the 2nd place Lone Star Brahmas, who are just a point back of the Bulls, host the New Mexico Ice Wolves for two games. The final series has the Shreveport Mudbugs looking to snap a three-game slide as they host the Odessa Jackalopes. The Corpus Christi IceRays are idle.
FRI, FEBRUARY 28
Jamestown at Maryland - 7:00 PM EST
New Jersey at Northeast - 7:00 PM EST
Topeka at Amarillo - 7:05 PM CST
Bismarck at Austin - 7:05 PM CST
Springfield at Janesville - 7:05 PM CST
Chippewa at MN Wilderness - 7:05 PM CST
MN Magicians at St. Cloud - 7:10 PM CST
Odessa at Shreveport - 7:11 PM CST
New Mexico at Lone Star - 7:30 PM CST
Aberdeen at Minot - 8:05 PM CST
SAT, FEBRUARY 29
New Jersey at Northeast - 7:00 PM EST
Jamestown at Maryland - 7:45 PM EST
Topeka at Amarillo - 7:05 PM CST
Bismarck at Austin - 7:05 PM CST
Springfield at Janesville - 7:05 PM CST
St. Cloud at MN Magicians - 7:05 PM CST
Chippewa at MN Wilderness - 7:05 PM CST
Odessa at Shreveport - 7:11 PM CST
New Mexico at Lone Star - 7:30 PM CST
Aberdeen at Minot - 8:05 PM CST
SUN, MARCH 1
MN Magicians at Chippewa - 3:10 PM CST