January 31, 2020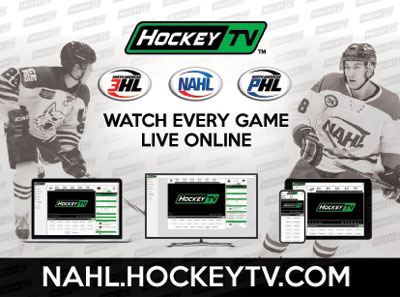 The month of January comes to a close this weekend in the NAHL as 24 games are on the schedule on Friday and Saturday.
Teams have already started to clinch spots in the 2020 Robertson Cup Playoffs and this weekend offers up more opportunity for teams to gain valuable points against divisional foes.
With the announcement of the 2020 NAHL Top Prospects rosters now complete, the full focus begins on the post-season. The USA Hockey trade and player movement deadline is just over a week away, so this weekend's results may go a long way in determining what teams decide to do for the remainder of the regular season.
In the Central Division this weekend, the Bismarck Bobcats will have a tall task trying to snap their four-game slide as they host the 1st place Aberdeen Wings, who are 8-2-0 in their last 10 games. 2nd place is on the line this weekend as the Austin Bruins visit Minot for a two-game series against the Minotauros. The 5th place Minnesota Wilderness will play outside of the division against the Chippewa Steel, as will the St. Cloud Blizzard, who have a home-and-home series with the Minnesota Magicians.
In the East, the 1st place New Jersey Titans are in Maine to take on the Nordiques, who have dropped their last two games. The Jamestown Rebels are just six points back of the Maryland Black Bears for the final playoff spot and travel to Maryland this weekend for two big games. The final series is a match-up of 2nd and 3rd place as Johnstown hosts the WBS Knights. The Northeast Generals are idle.
In the Midwest Division, the Chippewa Steel take on the Minnesota Wilderness and the Minnesota Magicians take on the St. Cloud Blizzard in out-of-division action. Meanwhile, within the division, the battle of Alaska continues as Fairbanks hosts Kenai River two more times at the Big Dipper after the Ice Dogs won the first game of the three-game set on Thursday, 7-2. Playoff positioning is on the line in the final series as Janesville hosts Springfield.
In the South Division, with Lone Star idle, the Amarillo Bulls look to move into sole possession of 1st place as they host the Corpus Christi IceRays, who are looking to snap a 13-game slide. The 3rd place Topeka Pilots are at home in a two-game series against New Mexico and Odessa is back at home as they look to end their 21-game losing streak against Shreveport.
FRI, JANUARY 31
New Jersey at Maine - 7:00 PM EST
Wilkes-Barre/Scranton at Johnstown - 7:30 PM EST
Jamestown at Maryland - 7:45 PM EST
Corpus Christi at Amarillo - 7:05 PM CST
Springfield at Janesville - 7:05 PM CST
New Mexico at Topeka - 7:05 PM CST
MN Wilderness at Chippewa - 7:10 PM CST
MN Magicians at St. Cloud - 7:10 PM CST
Aberdeen at Bismarck - 7:15 PM CST
Shreveport at Odessa - 7:15 PM CST
Austin at Minot - 7:35 PM CST
Kenai River at Fairbanks - 7:30 PM AKST
SAT, FEBRUARY 1
Wilkes-Barre/Scranton at Johnstown - 7:00 PM EST
New Jersey at Maine - 7:00 PM EST
Jamestown at Maryland - 7:45 PM EST
Corpus Christi at Amarillo - 7:05 PM CST
Springfield at Janesville - 7:05 PM CST
St. Cloud at MN Magicians - 7:05 PM CST
New Mexico at Topeka - 7:05 PM CST
MN Wilderness at Chippewa - 7:10 PM CST
Aberdeen at Bismarck - 7:15 PM CST
Shreveport at Odessa - 7:15 PM CST
Austin at Minot - 7:35 PM CST
Kenai River at Fairbanks - 7:30 PM AKST