Topeka forward McCarthy makes NCAA D1 commitment
December 10, 2019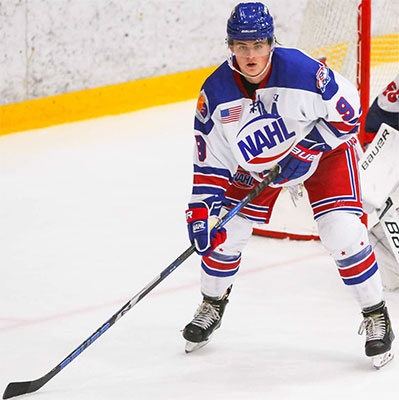 The Topeka Pilots of the North American Hockey League (NAHL) are pleased to announce that forward and Team NAHL member
Austin McCarthy
has committed to play NCAA Division 1 hockey for Ferris State University in the WCHA.
Growing up just an hour away from Big Rapids, Michigan. in the town of Ludington, McCarthy, 20, always dreamt of playing hockey for Ferris State University. And through hard work and commitment, his dream will soon be a reality.
"It's been a dream of mine since I was a little kid to play there," McCarthy said. "Growing up in Ludington, I played a lot in the Grand Rapids area. And being able to go back home to Michigan and play hockey in front of my family played a huge role in my decision."
And then after seeing the campus, he knew it was the right choice. "The campus is great and the classroom size is great," McCarthy said. "It felt like the perfect fit for me."
Wearing the 'C' as this season's captain of the Pilots, McCarthy has amassed 10 goals and 11 assists through 28 games, as he is currently on pace to pass his 37 total points from last season.
McCarthy was also selected to and played for Team NAHL this past summer at the 2019 Sirius Ice Hockey World Cup.
Pilots head coach Simon Watson has watched his efforts translate into success at the junior level, a mindset he knows McCarthy will continue at the collegiate level. "He's worked hard to achieve this outcome," Watson said. "Austin focuses on his complete game. We've talked with him about adjustments he's needed to make along the way to be successful, and he's bought into that."
Pilots associate head coach Justin DeMartino also played at Ferris State and has been there for any questions McCarthy's had about being on the Bulldogs roster. "I've been telling him how bad I wanted to go to Ferris ever since I met him," McCarthy said. "He's given me a ton of information on the program. I can't thank Coach Watson and him enough for everything they've done to get me this far."
McCarthy said knowing that he will join a team with past teammates provides a level of comfort in transitioning to the college experience. "It's great to know I won't be going in blind," McCarthy said. "I have the chance to ask those guys for tips, and I've probably already asked them a thousand questions. It's a huge upside to all of this."
And being only an hour from family has also given him a lot of opportunity to reflect on the exciting new journey ahead. "When I called my parents, they were both crying," McCarthy said. "They're so excited, like I am. It's a surreal feeling."
But with over half a season left to play with the Pilots, he knows there's still unfinished business to take care of before it's off to Big Rapids. "It's a good time to get back to work," McCarthy said. "We've got big goals here in Topeka to take the Robertson Cup. I'm ready to push myself the rest of the season to get better and help transition to the next chapter."