Friday Finals: Bulls win South, Wings clinch playoff berth
March 2, 2019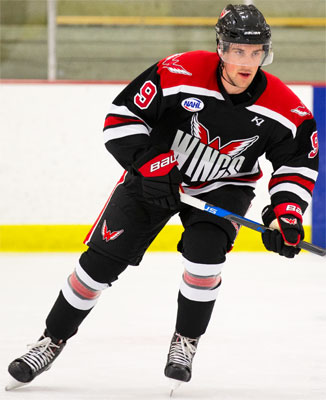 Amarillo 5 @ Topeka 4 - The Amarillo Bulls clinched the South Division regular season title as they knocked off the Topeka Pilots 5-4. Alex Peterson knocked home a pair of goals for Amarillo. Brenden Datema, Brett Abdelnour and Nick Trela found the scoresheet as well for the Bulls. Jason Grande and Justin Evenson combined to stop 25 shots. Christian Thomas, Hugh Quinn, Cole Thiessen and Brendan Schultz all tickled the twine for Topeka. Emil Gransoe took the loss as he made 31 saves.
Aberdeen 3 @ Austin 1 - Brad Belisle lit the lamp twice and Matt Vernon stopped 21 of 22 shots as the Aberdeen Wings clinched a berth in the 2019 Robertson Cup Playoffs after defeating the Austin Bruins 3-1. Shawn Kennedy also found the back of the net for the Wings and John Sladic grabbed two assists. Kyle Herbster scored the only goal for Austin and Kyle McClellan turned aside 30 Aberdeen shots.
Wilkes-Barre/Scranton 4 @ Northeast 0 - The Wilkes-Barre/Scranton Knights moved within one point of a playoff spot after shutting out the Northeast Generals 4-0 on Friday night. Zach Stejskal stopped all 39 shots thrown his way to pick up his fourth shutout of the season. Anthony Mastromonica had a goal and an assist while Davis Pennington, Adrian Danchenko and Max Klanow all lit the lamp for the Knights. David Fessenden and Marko Sturma combined for 26 saves for the Generals.
Jamestown 7 @ Maryland 0 - Nick Stuckless had two goals and two assists as the Jamestown Rebels routed the Maryland Black Bears 7-0. Noah Finstrom contributed a goal and two helpers and Jim Glynn also scored a goal and an assist. Antonio Venuto, Seth Bergeron and Sam Anzai all chipped in goals for the Rebels. Noah West made 17 saves to earn his third shutout of the year. Anthony Del Tufo made 37 for the Black Bears.
Johnstown 3 @ New Jersey 4 (OT) - Chris Garbe scored the game winning goal at 4:02 of overtime to lift the New Jersey Titans to a 4-3 win over the Johnstown Tomahawks. Spencer Stanley scored with just under three minutes remaining in the third period to force the extra session. Ryan Naumovski and Michael Conlin also scored for the Titans. Brandon Perrone was victorious in goal as he made 33 saves. Oliver Benwell, Roman Kraemer and Colin Price tallied goals for the Tomahawks. Carter McPhail made 20 saves in the loss.
Shreveport 3 @ Corpus Christi 4 - Four different IceRays lit the lamp as the Corpus Christi IceRays earned a series split with the Shreveport Mudbugs, winning on Friday night, 4-3. Santeri Hartikainen and Nicholas Seitz each registered a goal and an assist. Jake Stella and Nikita Krivokrasov each potted a goal for Corpus Christi. Brian George made 28 saves for the IceRays. Warren Natyshak, Timothy Clifton, and Ryan Dickinson all scored for Shreveport. Leo Chuard made 29 stops for the Mudbugs.
Chippewa 2 @ Janesville 5 - The Janesville Jets grabbed a much needed win over the Chippewa Steel by a score of 5-2. Jack Vincent and Logan Ommen both scored and had an assist. Brendon Jones, Luke Wheeler and Tommy Middleton all tallied goals as well. Cole Brady was able to stop 22 of 24 shots to pick up the victory for Janesville. Michael Black and Kyle Schroeder scored for Chippewa while Igor Samokhvalov made 17 stops.
Fairbanks 7 @ Springfield 2 - Grant Ledford led the way with two goals and an assist as the Fairbanks Ice Dogs handled the Springfield Jr. Blues, 7-2. Jonathan Sorenson potted a pair of goals while Luke Cioli logged a goal and two assists. Matt Koethe and Ty Proffitt also scored for Fairbanks. Mattias Sholl made 17 saves to earn the win. Brandon Puricell and Reed Stark found the scoresheet for Springfield and Jack Williams made 23 stops.
Brookings 2 @ Bismarck 3 (OT) - Sam Malinski was the overtime hero as the Bismarck Bobcats outlasted the Brookings Blizzard 3-2. Alex Pollock registered a goal and an assist. Adam Stacho also found the back of the net for the Bobcats. John Roberts was superb in net for Bismarck, he made 25 stops. Sam Antenucci logged a goal and an assist for Brookings. Luke Aquaro also scored. Jack Caruso was dealt the loss as he made 31 saves.
Odessa 3 @ Lone Star 4 - Matt Sankner made 21 saves and picked up his first victory in the North American Hockey League as the Lone Star Brahmas held off the Odessa Jackalopes 4-3. Sam Brennan, Jake Suede, Michal Stinil and Kimball Johnson all found the back of the net for Lone Star. Zach Heintz led the team with three assists. Michael Sacco picked up a goal and an assist for Odessa. Vaclev Zidek and Carl Skarstrom also scored for the Jackalopes.
MN Wilderness 2 @ Minot 8 - The Minotauros offense exploded for eight goals on Saturday night as they took care of the Minnesota Wilderness 8-2. It was a big night for Didrik Henbrant, Wilmer Skoog and David Raisanen all had two goals and two assists. Keenan Lund scooped up a goal and an assist while Kevin Ness also lit the lamp for Minot. Nicholas Grabko had plenty of goal support as he turned aside 23 Minnesota shots. Nate Horn and Ben Ward scored for the Wilderness. Ryan Fanti was stuck with the loss, he made 29 saves.