Saturday Scores: Tomahawks make it 12 straight wins with sweep
November 18, 2018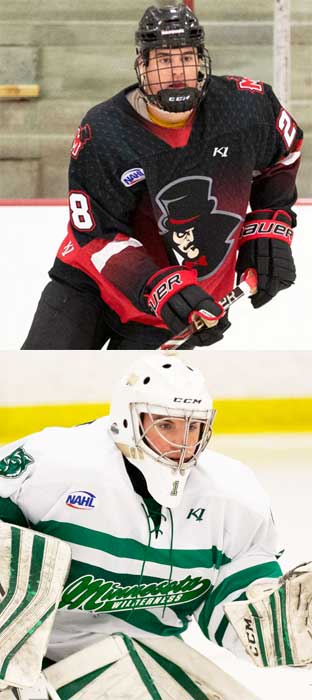 New Jersey 2 @ Johnstown 7 - Make it 12 straight wins for the Johnstown Tomahawks as they took care of New Jersey 7-2. Carson Briere and Colin Price each potted a pair of goals in the win. Austin Friesen and Christian Gorscak each had a goal and an assist. Bennett Stockdale lit the lamp as well while Andy Nedeljkovic had three assists. Carter McPhail earned the win in between the pipes as he made 26 saves. Ryan Naumovski and Bryce Witman scored for the Titans. Brandon Perrone and Matt Ladd combined for 27 saves.
Janesville 0 @ MN Magicians 2 - Scoreless until the third period, the Minnesota Magicians found their offense in the form of Joel Pavey and Jake Seitz. That's all the offense they would need to finish off the sweep of Janesville and increase their division lead to nine points. Jack Robbel stopped all 30 shots fired in his direction to grab his second shutout in as many weekends. Cole Brady was given the loss for Janesville, despite making 33 saves.
Chippewa 1 @ MN Wilderness 3 - The Wilderness finished off the home and home sweep as they beat Chippewa 3-1. Nick Portz and Oula Kuure scored first period goals to give the home club a two goal advantage after 20 minutes. Dylan Moulton would score in the second period to bring the Steel within one but Isaac Kobienia's empty net goal late sealed the victory for Minnesota. Ryan Fanti made 30 saves as he picked up his second victory of the weekend. Josh Langford took the loss for Chippewa as he made 23 stops.
Maryland 1 @ Northeast 4 - Three first period goals was the boost the Northeast Generals needed to get past the Maryland Black Bears as they defeated their divisional rival 4-1 on Saturday. Brady Gaudette, Cam Gaudette, Clark Kerner and Alex Cohen all scored for Northeast in their victory. David Fessenden made 34 stops to pick up the victory in goal. Luc Salem netted the only tally for Maryland while David Tomeo made 34 saves in the defeat.
Bismarck 1 @ Austin 5 - The Bruins snapped their three game losing streak with a 5-1 win over the Bismarck Bobcats. Dante Sheriff led the offensive attack as he scored two goals and added an assist. Garrett Dahm and Andrew Willis both had one tally and one helper. Levi Stauber found the back of the net as well. Brett Miller was victorious in goal as he made 25 saves. Ryan Taylor scored the only goal for Bismarck, John Roberts and Atticus Kelly combined for 33 stops for the Bobcats.
Lone Star 2 @ Corpus Christi 1 - The Lone Star Brahmas avoided a sweep at the hands of the Corpus Christi IceRays as they won their Saturday matchup 2-1. Andrew DeCarlo and Thomas Daskas scored for Lone Star. Seth Eisele was nearly perfect in net, allowing just one goal on 31 IceRay shots. Nicholas Seitz scored for Corpus Christi while Sam Best took the loss as he made just 20 saves.
Topeka 0 @ Springfield 6 - The Jr. Blues earned a split after a convincing 6-0 win over the Topeka Pilots. Brandon Puricelli could not be stopped as he scored twice and assisted twice for a four point evening. Sam Sterne and Nikita Kozyrev both had a goal and two helpers. Ryan Reid and Kyle Gudme also had a goal for Springfield and Jonathan Panisa had three assists. Jack Williams stopped 26 saves to earn his first shutout of the season. Sam Metcalf and Emil Gransoe made 29 saves together in the loss.
Odessa 5 @ Shreveport 4 (SO) - Kyle Herbster and Jared Christy scored in the shootout and Alex Camarre stopped both shooters he faced to give the Jackalopes the extra point and the victory over the Shreveport Mudbugs. Carl Skarstrom and Jared Christy had a goal and an assist for Odessa while John Sarafin and James Crossman both tallied goals for the visitors. Camarre finished the night with 39 saves and a victory in his back pocket. Jack Jaunich scored two goals and added a helper. Tim Khokhalchev and Anton Rubtsov also scored for the Mudbugs. Richie Parent made 32 saves and took the loss for Shreveport.
Brookings 4 @ Minot 5 - A back-and-forth affair ended with the Minot Minotauros skating away with a 5-4 victory. David Raisanen had a goal and an assist while Talyor Lantz, Kevin Ness, and Willmer Skoog all scored for the Minotauros. Andrew Kangas' third period goal proved to be the game winner for Minot. Nicholas Grabko only needed 14 saves to earn the win in the crease. For Brookings, Gabe Wahl and James Orr each tallied a goal and a helper. John Kaljian also scored twice in the close loss. George McBey kept his team in the game as he stopped 48 of 53 shots on goal.