November 9, 2018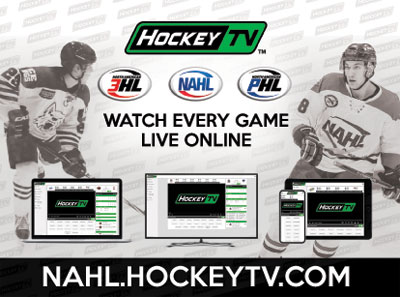 It is a busy weekend for North American Hockey League (NAHL) teams during Veteran's Day Weekend as 27 games are on the schedule from Friday through Monday.
It has been another great weekend for the NAHL and its players. A total of six players made NCAA Division I commitments this week and the 2018-19 total is now at 100 overall.
The season is over a quarter in the books and the jockeying in the standings continues this weekend with a full slate of games, including all 24 teams in action both Friday and Saturday night.
In the Central Division, the top four teams all square off in series, which includes the 1st place Austin Bruins hosting the 3rd place Minot Minotauros and the 2nd place Aberdeen Wings hosting the 4th place Bismarck Bobcats. The Bruins are just one point ahead of the Wings, who have gone 9-0-2 in their last 11 games and have the NAHL's best record. The Bruins and Minotauros split a series last weekend in Minot. Meanwhile, the Minnesota Wilderness host the Brookings Blizzard in the final series, with both teams needing wins and points to get back into the playoff picture. Both Bismarck and Minot will play a third game with a Veteran's Day clash on Monday night in Minot.
In the East Division, division-leading Johnstown puts their 8-game winning streak on the line as they play host to the Maryland Black Bears for a pair of games. The New Jersey Titans, who are on a four-game winning streak and sitting comfortably in 2nd place, have a home-and-home series with the Wilkes-Barre/Scranton Knights, who are trying to snap a seven-game losing streak. The final series has the Jamestown Rebels hosting the Northeast Generals in a pair of games.
In the Midwest Division, it is a rematch of last weekend's series as the Janesville Jets host the Chippewa Steel in the ongoing battle between the two Wisconsin teams. Last weekend the two teams split their series, which snapped a long losing streak for the Steel. The other two series are in the Great White North as the division-leading Minnesota Magicians continue their roadtrip with a pair of games in Kenai River. The Springfield Jr. Blues also continue their road swing with a pair of games in Fairbanks.
It is a busy weekend in the South Division, which features some intriguing match-ups. For the first time this season, the past two Robertson Cup Champions, Shreveport and Lone Star, will square off in a series. The two teams are separated by just a point for 3rd place in the standings. Each of the other series features three games as the Topeka Pilots travel to Odessa. The Jackalopes have played an NAHL-low 13 games so far this season. Finally, the division-leading Amarillo Bulls head south to take on the Corpus Christi IceRays for three games.
FRI, NOVEMBER 9
New Jersey at Wilkes-Barre/Scranton – 3:00 PM EST
Northeast at Jamestown - 7:05 PM EST
Maryland at Johnstown - 7:30 PM EST
Minot at Austin - 7:05 PM CST
Amarillo at Corpus Christi - 7:05 PM CST
Chippewa at Janesville - 7:05 PM CST
Brookings at MN Wilderness - 7:05 PM CST
Topeka at Odessa - 7:11 PM CST
Bismarck at Aberdeen - 7:15 PM CST
Shreveport at Lone Star - 7:30 PM CST
Springfield at Fairbanks - 7:30 PM AKST
MN Magicians at Kenai River - 7:30 PM AKST
SAT, NOVEMBER 10
Maryland at Johnstown - 7:00 PM EST
Northeast at Jamestown - 7:05 PM EST
Wilkes-Barre/Scranton at New Jersey - 7:30 PM EST
Minot at Austin - 7:05 PM CST
Amarillo at Corpus Christi - 7:05 PM CST
Chippewa at Janesville - 7:05 PM CST
Topeka at Odessa - 7:11 PM CST
Bismarck at Aberdeen - 7:15 PM CST
Shreveport at Lone Star - 7:30 PM CST
Brookings at MN Wilderness - 7:35 PM CST
Springfield at Fairbanks - 7:30 PM AKST
MN Magicians at Kenai River - 7:30 PM AKST
SUN, NOVEMBER 11
Amarillo at Corpus Christi - 3:05 PM CST
Topeka at Odessa - 4:11 PM CST
MON, NOVEMBER 12
Bismarck at Minot - 6:00 PM CST