Tomahawks come from behind to sweep Generals on Sunday
October 29, 2018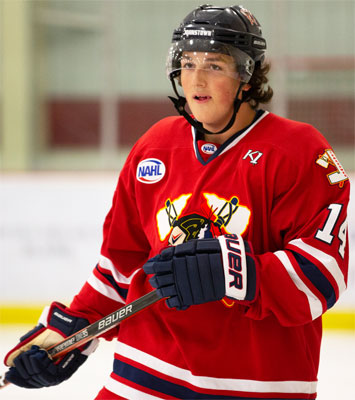 Northeast 4 @ Johnstown 5 (SO) - Carson Brière's late game-tying goal and shootout winner guided the Johnstown Tomahawks past the Northeast Generals in a comeback 5-4 shootout win in the lone NAHL game on Sunday.
The Generals scored the first goal of the game on the power play when Aurel Naus' one-time shot beat Tomahawks goalie Cooper Lukenda five-hole fora 1-0 Generals lead. The Generals increased their lead to 2-0 after a net-front scramble saw Svyatoslav Kuchynski put in a loose puck past Lukenda. Matthew Rutigliano assisted on the goal.
In the second period, the Generals added another goal at the 7:46 mark to make it 3-0 when Rutigliano deflected a Louis Boudon shot behind Lukenda. As the period expired, the Tomahawks finally solved Generals goalie David Fessenden with a Joey Kile power play goal. Alex Wilkins and Colin Price assisted on the marker.
The third period proved to be ample time for a Tomahawks comeback. Just 1:36 into the third period, Joey Kile tapped in a Bennett Stockdale shot past Fessenden to cut the Generals lead to 3-2. Later on the power play, Oliver Benwell capitalized with his sixth goal of the season to tie the game at 3-3. Hunter Toale picked up the assist. However, the Generals would answer quickly with a goal from Connor Marshall at 14:09 of the third period. As time winded down, Brière capitalized on a turnover at the Generals blueline and snapped a shot high glove past Fessenden to tie the contest at 4-4.
Overtime saw both teams exchanged chances but the game headed to a shootout. Lukenda pitched a shutout against all three Generals shooters and Brière scored the game winner to set the final at 5-4.
This event was the annual Pucks & Paws event where the team hosted 92 dogs in attendance and raised over $800 for the Humane Society of Cambria County.