Rebels edge Generals on Sunday, 3-2
October 1, 2018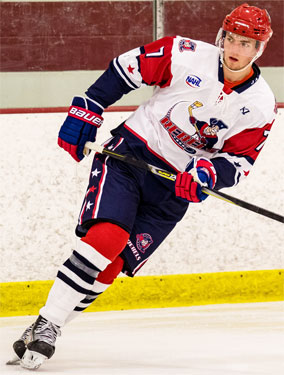 Jamestown 3 @ Northeast 2 – The Jamestown Rebels salvaged a weekend road split with the Northeast Generals thanks to a 3-2 win in the lone NAHL game on Sunday.
The Rebels opened the scoring late in the 1st period as Lewis Crosby scored his 2nd goal of the season, as he redirected a shot from the point that went past a screened Northeast goalie David Fessenden. Late in the period, the Generals would find the equalizer as Louis Boudon showed good patience on a 3 on 2 as the native from France netted his first goal of the year with a laser from the high slot that went past the glove of Rebels goalie Noah West.
The Rebels scored the lone goal of the 2nd period as they kept good pressure in the Generals zone as Konur Peterson danced his way out of the corner as slipped a backhand shot over the shoulder of Fessenden for a 2-1 lead.
The Generals tied the game early in the 3rd period as Brady Gaudette scored his first goal of the season with a nice hustle play of getting into a dump in first and outracing the defense to slip a shot past West. Just five minutes later, the Rebels would find the game-winner as Alex Frye lasered a shot over the blocker of Fessenden for the decider.
West made 24 saves for his second win of the season, while Fessenden made 37 saves in the loss.