Wilderness keep pace in Central with 5-2 win
April 6, 2018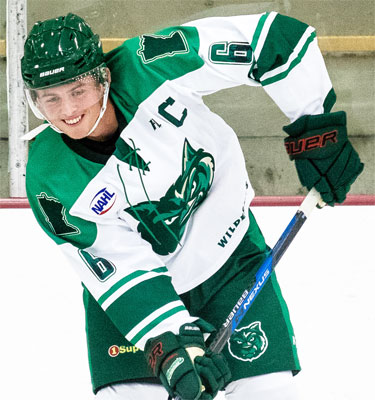 Brookings 2 @ MN Wilderness 5 – Defenseman Eric Gotz had three assists and five different players scored as the Minnesota Wilderness kept pace with Austin for 2nd place in the Central Division and home ice advantage in the first round of the playoffs with a 5-2 home win over Brookings in the lone NAHL game on Thursday night.
The Blizzard got off to a fast start with a goal early in the 1st period from Henry Enebak. However, the Wilderness had an immediate answer just :14 seconds later as Luke Dow scored his 9th goal of the season to make it 1-1. Later in the period, Wilderness forward Landon Langenbrunner made some history with his first NAHL goal to give the Wilderness a 2-1 lead at the end of the one period.
In the 2nd period, the Wilderness padded their lead with two more goals from Josh Fricks and Isaac Kobienia. With his third assist of the game on Kobienia's goal, Wilderness defenseman Eric Gotz set a new single-season record for points in one season by a Wilderness defenseman.
In the 3rd period, the Blizzard cut the Wilderness lead down to 4-2 as Connor Koviak scored his 19th goal of the season to make it 4-2, but a late empty-net goal from Nicholas Michel made the final 5-2.
Wilderness goalie Jake Sibell made 37 saves in the win, while Blizzard goalie Adam Brizgala made 21 saves in the loss.