March 29, 2018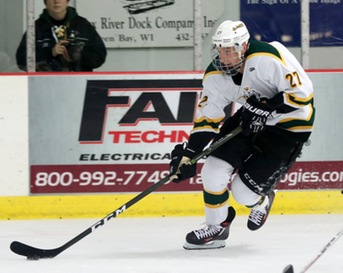 The Chicago Blackhawks announced that they have recalled goaltender Collin Delia from the American Hockey League's Rockford IceHogs and assigned goaltender J-F Berube to Rockford. Delia, 23, originally signed with the Blackhawks on July 28, 2017. He was 14-6-4 with a 2.68 goals against average, .904 save percentage and one shutout in 24 appearances with Rockford this season. He was selected as the CCM/AHL Player of the Week for the period ending March 4 after stopping 72 of 73 shots he faced in two starts, while also posting his first professional shutout. Prior to joining the IceHogs, Delia played in 10 games for the Indy Fuel of the ECHL. A native of Rancho Cucamonga, California, Delia was named a Hockey East Third Team All-Star after ranking 14th in the nation with a 2.15 GAA and ninth with a .927 SV% during the 2016-17 campaign with Merrimack College (NCAA). Delia appeared in 56 games for the Warriors over three seasons (2014-17), registering four shutouts, a 2.60 GAA and a .907 SV%. Delia played two seasons in the NAHL for the Amarillo Bulls from 2012-14 and two seasons in the NAPHL from 2010-12.
The NHL's Washington Capitals have recalled goaltender Pheonix Copley from the Hershey Bears of the American Hockey League (AHL). Copley, 26, has posted a record of 14-16-6 record with two shutouts, a 2.86 goals-against average and a .898 save percentage in 38 games with Hershey this season. Copley posted a 26-11-3 record with one shutout, a 2.25 goals-against average and a .924 save percentage in 41 AHL games with the Chicago Wolves and Hershey Bears in 2016-17. The North Pole, Alaska, native ranked seventh in the AHL in goals-against average, tied for seventh in wins and tied for eighth in save percentage. In 142 career AHL games with Hershey and Chicago, Copley posted a 72-47-15 record with nine shutouts, a 2.53 goals-against average and a .914 save percentage. The 6'4", 196-pound goaltender appeared in two career NHL games with the St. Louis Blues. Copley made his NHL debut on Feb. 27, 2016, at Nashville and made 24 saves in his first career NHL start on Jan. 21, 2017 at Winnipeg. The Capitals acquired Copley from the St. Louis Blues on Feb. 27, 2017, along with defensemen Kevin Shattenkirk for Zach Sanford, Brad Malone and a first-round pick in the 2017 NHL Entry Draft. Washington re-signed Copley to a two-year contract on June 28, 2017. Copley is an alumni of both the NAHL and NAPHL, having played for the Corpus Christi IceRays in the NAHL during the 2010-11 season and played in the NAPHL for the California Titans during the 2009-10 season.
A total of 20 NAHL alumni will be taking part in the NCAA Division I Frozen Four Men's National Championship, beginning April 5th in St. Paul, Minnesota. 15 of the 16 teams that began the tournament last weekend had at least two NAHL alumni on their roster. In total, 115 NAHL alumni were on the 16 rosters of teams that began the event.
13 NAHL graduates, including double overtime hero Brad Pung (Soo Eagles/Michigan Warriors/Texas Tornado), helped St. Norbert edge Salve Regina, 3-2, in double overtime in the NCAA Division III Men's Ice Hockey Championship final last weekend at Herb Brooks Arena in Lake Placid, NY. It marked the fifth NCAA Division III national championship for St. Norbert (27-4-1), who made its ninth championship game appearance in program history. Salve Regina (22-6-2) played in its first-ever NCAA tournament final on Saturday. A combined 24 NAHL graduates played in the game. Though both goalies were forced into action several times in the first overtime, the score remained deadlocked at 2-all through a full 20-minute extra session. Pung played the role of hero 9:42 into the second overtime, however, netting the game-winning goal for the Green Knights. Both goalies, are NAHL grads, were spectacular in the game as T.J. Black (Lone Star Brahmas) turned aside 41 shots in the win for St. Norbert, while Blake Wojtala (Topeka RoadRunners/Odessa Jackalopes/Jamestown Ironmen) made 47 stops in between the pipes for Salve Regina.
NCAA Division II-III men's head coaches have recognized the top 31 hockey players in their division by selecting them as CCM Hockey/AHCA All-Americans for 2017-18. A total of seven NAHL graduates were named to the 1st Team.
1st Team East
G - Blake Wojtala, Salve Regina (Topeka/Odessa/Jamestown)
D – Dalton Carter, Utica (Kalamazoo)
F – Roman Ammirato, Utica (Amarillo)
F – Colin Larkin, UMass-Boston (Michigan)
1st Team West
G – T.J. Black, St. Norbert (Lone Star)
D – Sean Campbell, St. Norbert (Michigan/Kalamazoo)
D – Cory Dunn, Adrian (Austin)