NAHL announces Bauer Divisional Stars of the Week
March 26, 2018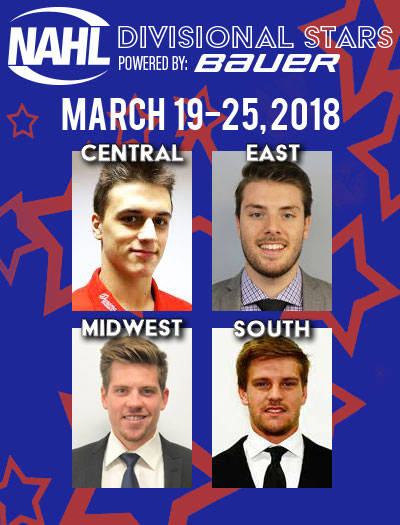 The North American Hockey League (NAHL) today announced the Divisional Stars of the Week presented by Bauer Hockey for the week ending March 25, 2018. The Bauer Hockey Divisional Stars of the Week is a weekly feature during the 2017-18 regular season that honors the top performing players in each of the four NAHL divisions. Only players that are nominated by their respective teams are considered for the Divisional Players of the Week award.
Central Division Star of the Week: Ondrej Trejbal, defenseman, Minnesota Wilderness
Thanks to taking three of four points on the road in their series against the Brookings Blizzard, the Minnesota Wilderness clinched a playoff spot in the Central Division this past weekend. Wilderness and Top Prospects defenseman Ondrej Trejbal, 18, had a productive weekend as the 6'4/190 lbs. native of Nove Mesto na Morave, Czech Republic, was a factor in each of the two games. On Friday, Trejbal had two assists in a 4-3 overtime loss and on Saturday, he scored a goal in a 6-3 win. He was also a +3 during the weekend. For the season, Trejbal has had a great rookie campaign in the NAHL, recording 27 points (9 goals, 18 assists) in 49 games played. "Ondrej is an important part of our hockey team. His intelligence, skill level, and 6'4" frame allows him to be one of the top defenseman in the league," said Wilderness head coach Tim Madsen.
2nd Star: Travis Kothenbeutel, F, Austin Bruins
Honorable Mention (alphabetical): Luke Dow, F, Minnesota Wilderness – Dante Sheriff, F, Austin Bruins
East Division Star of the Week: David Tomeo, goaltender, Wilkes-Barre/Scranton Knights
Knights goalie David Tomeo, 19, had a huge weekend, leading the Knights to two wins in his two stars and in the process stopped 70 of 73 shots during the weekend. In his first start of the weekend on Saturday, the 6'1/175 lbs. native of West Caldwell, New Jersey, stopped 35 of 36 shots in a 2-1 overtime win against the Northeast Generals. On Sunday, Tomeo got the star again and didn't disappoint as he made another 35 saves, this time in a 4-2 win against the Generals. It was a shot in the arm for the Knights and Tomeo as he hadn't won a game since February 9th. "David showed everyone his talent this weekend. When he's playing his best hockey he's one of the best goalies in the league. We're looking for consistency heading into the playoffs and he provided that for us this weekend. He stepped up and helped the team win both games he started against a division rival, keeping us in the race for the number two seed in our division. We need that kind of performance if we're going to make the run we're capable of in the playoffs," said Knights head coach Tom Kowal.
2nd Star: Joe Kile, F, Johnstown Tomahawks
Honorable Mention (alphabetical): Curtis Carlson, F, Wilkes-Barre/Scranton Knights – David Fessenden, G, Northeast Generals – Roman Kraemer, F, Johnstown Tomahawks – Colin McCabe, D, Northeast Generals – Wade Novak, F, New Jersey Titans
Midwest Division Star of the Week: Tanner Polglaze, forward, Janesville Jets
The Janesville Jets rolled to a weekend sweep of the Coulee Region Chill this past weekend, securing the #2 seed in the Midwest Division. Forward Tanner Polglaze was a productive factor all weekend as the 21-year-old Michigan Tech recruit recorded 4 points (2 goals, 2 assists) and was a +3 in the wins. On Friday, the 5'11/175 lbs. native of Beloit, Wisconsin, had a goal and an assist in a 6-1 win and on Saturday, Polglaze had another goal and assist in a 7-2 win. For the season, Polglaze is 3rd in team scoring with 40 points in 55 games played. "Tanner has been the heart and soul of this team and it shows by his play. He plays every shift likes it's his last and his point production is rewarding him. This weekend was no different and the goals he got were all hard working goals," said Jets head coach Gary Shuchuk.
2nd Star: Kevin Lake, G, Kenai River Brown Bears
Honorable Mention (alphabetical): Sacha Guillemain, F, Kenai River Brown Bears – Caleb Hite, F, Fairbanks Ice Dogs – Grant Ledford, F, Fairbanks Ice Dogs
South Division Star of the Week: Blake Bride, forward, Odessa Jackalopes
Odessa Jackalopes forward Blake Bride, 19, helped his club pick up two wins in three home games this past weekend against the Topeka RoadRunners to stay firmly in the 3rd playoff spot in the South Division. The 5'11/166 lbs. native of Broomfield, Colorado totaled six points on the weekend, which included scoring at least in goal in all three games. On Thursday, Bride had two of Odessa's three goals in a close 4-3 loss. On Friday, he scored two goals and added an assist in a 5-3 win. On Saturday, he chimed in with another goal in a 5-2 win. For the season, Bride is 2nd overall in team scoring with 48 points in 51 NAHL games played so far this year. "Blake is the hardest worker on our team and gets rewarded for it. He plays the game the right way and does all the little things right," said Odessa head coach Greg Gatto.
2nd Star: Rylee St. Onge, F, Corpus Christi IceRays
Honorable Mention (alphabetical): Austin Bottrell, F, Lone Star Brahmas – Matt Brown, F, Odessa Jackalopes – Jayson Dimizio, F, Corpus Christi IceRays – Jon Russell, F, Lone Star Brahmas