Minot stays in playoff hunt with 4-1 win on Wednesday
March 8, 2018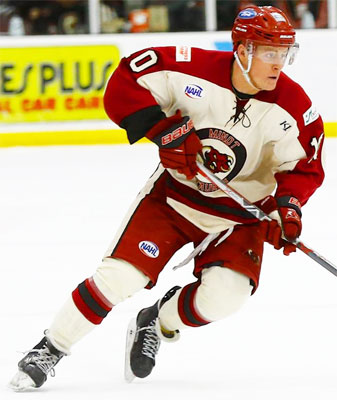 Bismarck 1 @ Minot 4 – In the lone NAHL game on Wednesday night, Lake Superior State commit Miroslav Mucha had two goals to lead the Minot Minotauros to a 4-1 home win over the Bismarck Bobcats. The win brought the Minotauros to within four points of the final playoff spot in the Central, which is held by Bismarck. Minot does have two games in hand.
Mucha scored the game's first two goals with the first coming on the power play in the 1st period and the second coming midway through the 2nd period. It was his 26th and 27th goals of the season, which now ties him for the goal scoring lead in the NAHL.
Early in the 3rd period, the Bobcats broke through to make it 2-1 as Adam Stacho scored a shorthanded goal, which was his 14th goal of the season. However, Minot would tack on two more goals as David Raisanen scored and Austin Koss added an empty-net goal.
Minot goalie Jack Robbel made 25 saves in the win, while Johnny Roberts made 32 saves in the loss.