Knights forward Bertrand makes NCAA DI commitment
March 7, 2018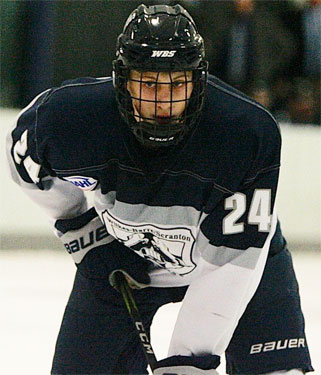 The Wilkes-Barre/Scranton Knights of the North American Hockey League (NAHL) would like to congratulate forward Jeffrey Bertrand who has committed to NCAA Division I hockey for Penn State University for the 2020-21 season.
The Anchorage, Alaska native has impressed through six games with Wilkes-Barre/Scranton this season, joining the team for games against Fairbanks, Kenai River, Johnstown and New Jersey.
"Jeffrey has been a steady player for us in the time we've been able to have him on our team," said Knights head coach Tom Kowal. "He comes as advertised-he's a strong, two-way player with a lot of size, speed and grit to his game and he's applied that well in his brief time with us in the NAHL."
When not with the Knights, Bertrand continues to develop his game with the Alaska Oilers U16 AAA program, having recorded nine goals and 25 points in 29 games this season. Bertrand's play both with the Oilers and in the NAHL have earned him recognition as one of top 2001-born prospects.
"We're thrilled Jeffrey's earned a commitment to Penn State, an elite college hockey program," said Kowal. "Having seen his habits on and off the ice, along with his talent, it comes as no surprise. We are excited for his future there and within our own organization and we can't wait for him to come aboard full-time."
The Knights congratulate Jeffrey on his commitment and look forward to assisting his development as he moves forward with his hockey career.