Magicians edge Jr. Blues in OT on Thursday, 3-2
February 23, 2018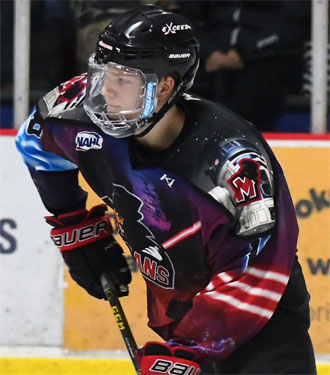 MN Magicians 3 @ Springfield 2 (OT) – Goaltender Isaiah Saville made 31 saves and Top Prospects defenseman Calvin Dybicz scored :11 seconds into overtime as the Minnesota Magicians picked up a big two points in a 3-2 road win in Springfield.
After a scoreless 1st period, the Jr. Blues scored the game's first goal as Patrick Smyth netted his 3rd goal of the season. Less than six minutes later, the Magicians would tie things up as Jackson Nauss scored his 4th goal of the season. Later in the period, the Jr. Blues would regain their one –goal edge as Fabio Hollenstein scored his 8th goal of the season.
It took over 14 minutes of time in the 3rd period for the Magicians to find the back of the net for the equalizer, but it came thanks to the 13th goal of the season for Ethan DeStefani.
Just :11 seconds into the overtime, the Magicians controlled the opening face-off and ultimately got the puck to Dybicz in the high slot, who then fired a wrist shot that eluded Jr. Blues goalie Jurja Ovecka to the glove side.
Ovecka would make 29 saves in the OT loss.