February 22, 2018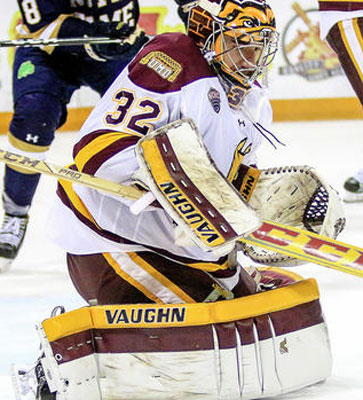 NCHC Offensive Player of the Week: Dawson DiPietro, Western Michigan (Janesville/Austin/Coulee Region/Topeka)
DiPietro totaled four points against St. Cloud State last weekend, playing a key role in a tie on Friday night. In Friday's opener he tied a career-high with three points, handing out assists on WMU's second and fourth goals, both of which put the Broncos ahead by one, with the latter in the third period. The sophomore also scored WMU's fifth goal to again put the Broncos in front with 2:25 left in regulation in an eventual 5-5 overtime tie. He fired four shots on goal in the tie and was +1. On Saturday, DiPietro scored WMU's second goal midway through the second period to break a tie and put the Broncos ahead, 2-1, in an eventual 4-2 defeat. He finished the series with two goals, two assists and seven shots on goal. On the season, DiPietro now leads the Broncos with 33 points on 13 goals and a team-best 20 assists in 30 games.
NCHC Goaltender of the Week: Hunter Shepard, Minnesota-Duluth (Bismarck Bobcats)
Shepard was perfect on the weekend as he didn't allow a single goal in backstopping UMD to a sweep of Miami. On Friday, the sophomore stopped all 16 shots he faced in a 4-0 victory, including making three saves to help kill all four RedHawk power plays, as he earned Second Star of the Game. The next night, Shepard turned aside all 34 shots in a 3-0 win, including 14 in the second period when UMD was outshot 14-1, and 15 more in the third period as the Bulldogs clung to a one-goal lead until late. He made five saves on Miami's two power plays and was named First Star of the Game Saturday. Shepard now has five shutouts on the season, which ties both the UMD and NCHC single-season records. In becoming the first Bulldog to post back-to-back shutouts in a home series, Shepard totaled 50 saves, including eight short-handed to kill all eight Miami power plays, with a pristine 1.000 save percentage. With his 0.00 goals-against average on the weekend, he lowered his season GAA to 2.15, while upping his save percentage to .921 and improving his record to 16-11-1 on the season.
WCHA Defensive Player of the Week: Mark Auk, Michigan Tech (Port Huron Fighting Falcons)
Auk led WCHA defensemen with three points, one goal (tied), two assists (tied), three power-play points, 10 shots on goal and seven blocked shots. The senior from St. Clair Shores, Mich. had an assist in Friday's game, before logging a two-point effort to help the Huskies to a 5-3 win Saturday and nonconference split with Arizona State. With Tech trailing 1-0 to start the second period, Auk buried a power-play goal to tie the contest, then assisted on another man-advantage goal to give the host Huskies a 2-1 lead. This is Auk's second career WCHA weekly award, both coming this season (also on Oct. 9).
WCHA Goaltender of the Week: Michael Bitzer, Bemidji State (Alexandria Blizzard)
Bitzer assured he and his fellow Bemidji State seniors would have more games at the Sanford Center, backstopping the Beavers to a five-point league series that clinched home ice in the quarterfinal round of the 2018 WCHA Playoffs. The senior from Moorhead, Minn. played all 125 minutes in net against visiting Alaska, stopping 43-of-46 shots faced for a .935 save percentage and a 1.44 goals-against average. Bitzer made 19 saves in Thursday's 2-2 tie, then stood tall in net as BSU scored in the 3-on-3 overtime for the extra league point. Friday, he pitched a shutout for 58:38, finishing with 24 saves in a 2-1 victory. In addition, he led a BSU penalty-kill unit that held the Nanooks scoreless on nine opportunities. This is Bitzer's fifth WCHA weekly award of the 2017-18 season and his 16th career honor, including a pair of Rookie accolades and nine Defensive awards.
WCHA Rookie of the Week: Reggie Lutz, Minnesota State (Fairbanks Ice Dogs)
Lutz tied for the WCHA lead with three assists and four points, helping now-No. 4/5 Minnesota State move into first place – and within two points of clinching the MacNaughton Cup – with a league sweep of Ferris State. The freshman from Elk River, Minn. had a career-high three points on a goal and two assists in Friday's 7-1 win, then helped set up Brad McClure's game-winning goal in Saturday's 4-2 triumph. Lutz' trio of helpers tied for the NCAA rookie lead last week, while his four points tied for third (trailing only a pair of freshmen that played in three games). This is Lutz' first WCHA weekly award of his freshman season.
ECHL Player of the Week: Garrett Ladd, Tulsa Oilers (Marquette Rangers)
Garrett Ladd of the Tulsa Oilers is the Sher-Wood Hockey ECHL Player of the Week for the week of Feb. 12-18. Ladd scored three goals, added five assists and was a +6, helping the Oilers to a 3-0-0 record last week. The 28-year-old tallied a goal and added two assists in a 3-1 win against Florida on Friday, scored a pair of goals and had an assist in a 3-0 victory over the Everblades on Saturday and notched two assists in a 6-2 win against Indy on Sunday. A native of Fenton, Michigan, Ladd has posted 33 points (18g-15a) in 30 games with the Oilers this season. He began the season in Europe with the Coventry Blaze of the Elite Ice Hockey League where he had six points (3g-3a) in eight games. Ladd has recorded 75 points (39g-36a) in 128 career ECHL games with Tulsa, Adirondack, Elmira, Missouri and Stockton. Prior to turning pro, he tallied 111 points (37g-74a) in 85 career games at the University of Wisconsin-Stevens Point. He played three full seasons in the NAHL, totaling 168 games from 2007-10.
SPHL Player of the Week: Michael Economos, Peoria Rivermen (Corpus Christi IceRays/Michigan Warriors)
The Southern Professional Hockey League (SPHL) announced Michael Economos of the Peoria Rivermen is the Warrior Player of the Week for February 12-18. Economos scored five goals, including two game-winners, added two assists and was +3 as Peoria swept a three-game weekend series from Fayetteville and moved into first place in the SPHL standings. Entering the weekend, Economos had three goals and three assists in his first 29 games. On Friday, the Crystal Lake, IL native picked up an assist on the Rivermen's first goal as Peoria defeated Fayetteville 3-2. Economos found the back of the net twice the following night, scoring in each of the first two periods in a 7-3 win over the Marksmen. Economos closed out the weekend in style, netting his first professional hat trick and adding an assist in Peoria's 8-1 win on Sunday.