Fairbanks forward Vanska makes NCAA DI commitment
February 21, 2018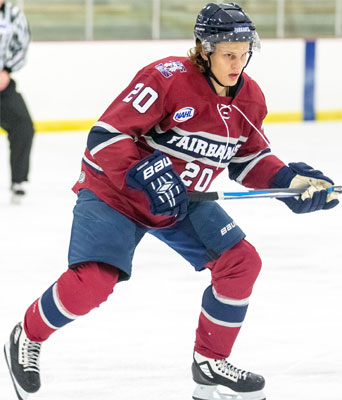 The Fairbanks Ice Dogs, proud members of the North American Hockey League (NAHL), are pleased to announce that forward Erkka Vanska has committed to play NCAA Division I hockey for the College of the Holy Cross in Worcester, Massachusetts.
The 5'10/170 lbs. native of Espoo, Finland, is the eighth Ice Dog this season to commit to an NCAA Division I program.
"I'm super excited for him," Fairbanks head coach Trevor Stewart said. "He's a kid that values education and for him to get a commitment from Holy Cross, there's a great value in that education. I'm pumped up for him. We're thankful to have him and we're really thankful that he has this opportunity to play Division I hockey at a really great hockey school."
Vanska is tied for fifth place in scoring among North American Hockey League players. He and Mike Egan, of the Northeast Generals, both have 47 points this season.
Vanska was scheduled to take part in the 2018 NAHL Top Prospects Tournament for the Midwest Division team, but this commitment means that he will be replaced on the Midwest roster by Fairbanks teammate Jax Murray.
Vanska has tallied 17 goals and 30 assists, which ranks second on the team in points behind forward Samuel Ruffin, who has 17 goals and 31 assists for 48 points. Although Vanska has one more year of junior hockey eligibility remaining next year, he'll forgo it to join the Crusaders in the fall.
Stewart believes that decision shows just how bad Holy Cross wanted Vanska. "That's very cool and shows their commitment to him," he said. "He's only going to get better."
Fairbanks' coach also raved about Vanska's work ethic and determination to be a two-way player that lets his presence be felt at both ends of the ice. "He gets everything through his work ethic and obviously has a skill set to boot," Stewart said. "The one thing he does extremely well is he works hard every single day and every single night. He's being rewarded well with this opportunity."
Holy Cross competes in the Atlantic Hockey Association. The program has reached the NCAA Tournament twice, in 2004 and 2006.
After tallying six goals and 18 assists for the Ice Dogs as a rookie last season, Vanska has established himself as a key contributor on this year's team.
Stewart said that as excited as Vanska is to commit to Holy Cross, the forward also is heavily invested on the remainder of his career in Fairbanks. "He just wants to play hockey and he wants a good education," Stewart said. "Knowing him, he's excited about his opportunity but there's going to be more of a focus shifted on the opportunity for our club to do some things and try to win a championship."