Knights defenseman Cimilluca makes NCAA commitment
February 21, 2018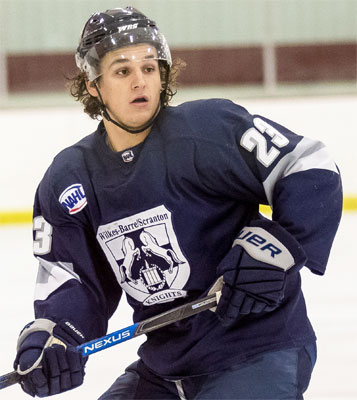 The Wilkes-Barre/Scranton Knights of the North American Hockey League (NAHL), are pleased to announce that defenseman Paul Cimilluca committed to play NCAA Division III hockey for the Wilkes University Colonels. The 21-year-old defenseman will start his college career next year with the Colonels in their inaugural season at the NCAA Division III level.
"I like that it was close to home," said Cimilluca of Wilkes' nearby campus. "It's a college community, there are 10 schools around the Wilkes-Barre/Scranton area and a lot of life. It's a good place for a school, especially in Division III. They're a small school, investing in itself and their sports programs."
The Colonels will be coached in their first season by Brett Riley, a former forward for Hobart College.
"Coach Riley is a young up-and-comer," said Cimilluca. "He's got an impressive history-he turned Albany Academy around in his last job. He comes from a great hockey family with a lot of ties to Army and the collegiate level. His father coached at Army and his grandfather coached both there and Team USA to a gold medal in the 1960 Olympics. Needless to say Coach Riley knows his hockey. He's 100% all-in. That really was the biggest reason I committed to Wilkes."
Cimilluca (6'0/190) is in his second season with the Wilkes-Barre/Scranton Knights after being a second-round selection in the Knights 2016 NAHL draft class. The Colonia, New Jersey native has compiled 15 points in 82 games with the team, playing minutes in all situations.
"Paul has been a great competitor for us from day one," said Knights head coach Tom Kowal. "He brings a steady, physical game to our blue line and he enjoys challenging the other teams' top players. That's the attitude we want from our defensemen. As a veteran he's also done a nice job introducing younger guys on our team to the style of play and toughness that is needed to play in the NAHL."
"I owe it all to the NAHL," said Cimilluca. "They're arguably one of the best leagues in junior hockey. You have a lot of older junior players that are going to be NCAA Division I or high-end NCAA Division III guys. I think that really helps me heading into college, having competed against guys who will be playing at the same or higher levels of hockey. Battling against D1 guys like Jack Olmstead, Tyrone Bronte, Reed Robinson, Justin Engelkes, Anthony Firriolo, Gabe Temple every day in practice-that's been the best thing for me. It gives me a lot of confidence, knowing I've prepared myself against that level of talent."
Cimilluca will finish out his final months as a junior hockey player with the Knights, a team hungry for success in their third year in the NAHL. He is committed to helping them achieve the highest of their goals.
"I want to be a Robertson Cup Champion, plain and simple," he said.
"I'm proud to see Paul commit to Wilkes," said Kowal. "They're getting a strong player and leader for their first NCAA season and beyond. With him going to school just a few minutes away, it won't be hard to root for Paul. I look forward to following his college career!"
"I'd really like to thank all the coaches that helped me get to this point in my career, especially Hockey Essentials, The New Jersey Avalanche organization, Bloodline Hockey, and the WBS coaching staff," said Cimilluca. "I'm looking forward to making an impact at Wilkes University."