February 9, 2018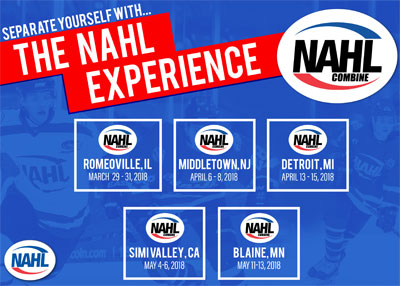 The USA Hockey trade deadline has come and gone, Top Prospects rosters have been turned in, so now NAHL teams can focus and get back to regular season play as 19 games are on the schedule this weekend.
Just two months remain until the end of the 2017-18 regular season and the start of the 2018 Robertson Cup Playoffs.
The NAHL had another incredible week of NCAA commitments with five more players making their college plans for next season. To date, 151 NAHL players have made an NCAA commitment during the 2017-18 season.
The NAHL will announce the 2018 Top Prospects rosters for all six teams on Monday, February 12th beginning at 3:30pm on Facebook Live on the
NAHL Facebook page
.
In the Central Division this weekend, things got started on Thursday night as the Brookings Blizzard got a big 4-3 overtime road win in Bismarck. The Blizzard now head to Minot for a pair of games against the Minotauros. Meanwhile, the Bobcats, who moved into 4th place with the point on Thursday, will face a tall task with a pair of games in Aberdeen against the 1st place Wings. Outside of the Division, the Minnesota Wilderness will host the Janesville Jets and the Austin Bruins take to the ice for a home-and-home Minnesota battle with the Magicians.
In the East Division, the New Jersey Titans are on the road for a pair of games against the Northeast Generals, with the two teams separated by just five points in the standings. The other action is outside of the division as Johnstown is in Fairbanks and Wilkes-Barre/Scranton is in Kenai River. The 1st place Philadelphia Rebels, who played earlier in the week, are off this weekend.
In the Midwest Division, the only intra-divisional series features the Springfield Jr. Blues hosting the Coulee Region Chill. The Chill enter the series 10 points behind the Jr. Blues for the 4th and final playoff spot. All the other action is outside of the division as Fairbanks puts their 17-game winning streak on the line at home against Johnstown. 2nd place Janesville travels to face the Minnesota Wilderness. The 3rd place Minnesota Magicians engage in a home-and-home battle with the Austin Bruins, and the Brown Bears host the Knights.
In the South Division, the Lone Star Brahmas will go for a weekend sweep on Friday in Corpus Christi, as they edged the IceRays on Thursday night, 4-3. The other series has the 1st place Shreveport Mudbugs in Amarillo for a pair of games against the Bulls. Both Odessa and Topeka are idle this weekend.
Friday, February 9th
Shreveport at Amarillo - 7:05 PM CST
Lone Star at Corpus Christi - 7:05 PM CST
Janesville at MN Wilderness - 7:05 PM CST
Coulee Region at Springfield - 7:05 PM CST
Bismarck at Aberdeen - 7:15 PM CST
Austin at MN Magicians - 7:15 PM CST
Brookings at Minot - 8:05 PM CST
Johnstown at Fairbanks - 7:30 PM AKST
Wilkes-Barre/Scranton at Kenai River - 7:30 PM AKST
Saturday, February 10th
New Jersey at Northeast - 7:00 PM EST
Coulee Region at Springfield - 6:05 PM CST
Shreveport at Amarillo - 7:05 PM CST
MN Magicians at Austin - 7:05 PM CST
Janesville at MN Wilderness - 7:05 PM CST
Bismarck at Aberdeen - 7:15 PM CST
Brookings at Minot - 7:35 PM CST
Johnstown at Fairbanks - 7:30 PM AKST
Wilkes-Barre/Scranton at Kenai River - 7:30 PM AKST
Sunday, February 11th
New Jersey at Northeast - 3:30 PM EST