Saturday Scores: Brahmas cap weekend with convincing sweep
February 4, 2018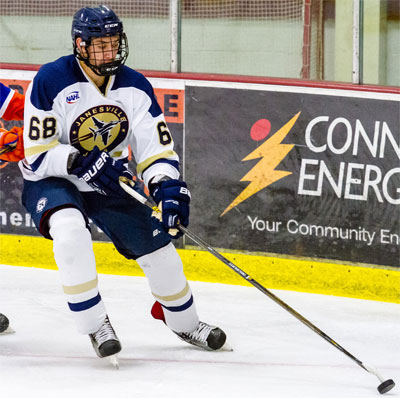 Topeka 1 @ Lone Star 8 - Lone Star netted five goals in the second period of their game against the RoadRunners and sailed to an easy 8-1 win over Topeka. Steven Ipri and Justin Addamo each had three points to lead the Brahmas on offense. Julian Biondo, Jakub Sirota, Emack Bentley and Kyle Hallbauer all had a goal and an assist in the win as well. Frankie Trazzera also got on the scoresheet for the Brahmas. Harrison Feeney made 17 save to pick up the victory in between the pipes. Mason Vukonich scored the only goal for Topeka.
Fairbanks 6 @ Minot 5 - Six first period goals from the Fairbanks Ice Dogs were enough to hold off the hard charging Minotauros. Robert Blueger and Erkka Vanska led all players in points with three apiece. Tanner Schachle, Hunter Wendt and Jax Murray all had a goal and an assist. Jake Borgida and Caleb Hite also scored for Fairbanks in that wild first period. Logan Neaton picked up his 13th win as the Ice Dogs extend their winning streak. Austin Dollimer led Minot with four assists. Nolan Sawchuk, Jake Rosenbaum and Alex Adams each had a goal and an assist. Colby Enns and Austin Koss also scored for Minot. The win was the 17th in a row for the Ice Dogs.
Philadelphia 2 @ Northeast 3 - Alex Cohen's sixth goal of the season proved to be the difference as the Generals rebounded from a tough loss on Friday to defeat the Rebels 3-2 and take two of three games in the series. Justin Jallen netted a goal and an assist. Matthew Wiesner scored as well for the Generals, it was his third straight game with a goal. David Fessenden stopped 37 of 39 shots that came his way to pick up the victory in goal. Jensen Zerban and Jimmy Glynn each scored for the Rebels in a losing effort. Eli Billing made 29 saves.
Coulee Region 1 @ Janesville 3 - Daniel Lebedeff was nearly perfect as he turned aside 30 of 31 Coulee Region shots. Jakov Novak continued his hot streak and now has four goals in his last three games. Kip Hoffman and Tanner Polglaze also potted goals for the Jets in the win. Collin Price scored the only goal for the Chill while Josh Graziano made 27 saves.
Kenai River 2 @ Springfield 4 - The Springfield Jr. Blues used three goals in the first period to propel themselves to a 4-2 victory over the Kenai River Brown Bears, which snapped an 8-game losing streak. Nikita Kozyrev netted a goal and added an assist in the win while Marcus Walter, Fabio Hollenstein and Spencer DenBester all found the back of the net as well. Evan Fear was sensational in net as he denied 33 Kenai River shots. Emils Ezitis and Gil Garcia scored for the Brown Bears. Kevin Lake made 39 saves in relief for Kenai.
Amarillo 2 @ Odessa 4 - The Jackalopes were quiet for the first 40 minutes but exploded for four goals in the final 20. Zac Herrmann and Peyton Frantti each scored a goal and had an assist. Matt Brown and Dylan Johnson also scored for Odessa in their 4-2 victory over Amarillo. Austin O'Rourke and Trey Bagel scored for the Bulls in the loss. Brett Epp earned the win by making 30 saves. Jason Grande was dealt the loss despite stopping 34.
Austin 1 @ Aberdeen 2 (OT) - Nathan Burke's power play goal in overtime kept the Aberdeen Wings all alone in first place of the Central Division. Burke also had an assist for the Wings while John Sladic scored the only goal in regulation for Aberdeen. Gabe Vinal stopped 24 of 25 Austin shots. Valdemar scored the lone goal for the Bruins while Alex Schilling made 33 saves for Austin.
MN Wilderness 2 @ Bismarck 4 - Four different Bobcats found twine on Saturday night as Bismarck doubled up Minnesota 4-2. Zach Van Sant, Jacob Marti, Tanner Vescio and Grant Johnson netted goals for the home squad. Ryan Ullan grabbed his 11th win of the season in the process. Nathan Horn and Edward Lindelow scored for the Wildnerness in this one. Ryan Fanti stopped 17 shots for Minnesota.