February 2, 2018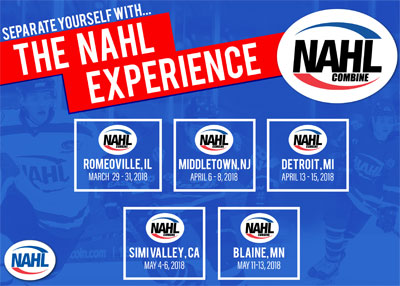 The weekend began early in the NAHL with four games already taking place on Thursday night. The remainder of the weekend features 17 games on Friday and Saturday.
This is the final weekend for teams to gain some valuable ground in the standings before the cut off for the standings freeze for spots for the 2018 NAHL Top Prospects Tournament, which will take place from February 27-28 in Plymouth, Michigan.
Next week also marks the USA Hockey trading deadline in addition to the cut off for player drops and the freeze on NAHL protected lists.
The Central Division is highlighted by a battle of the top two teams this week as the 1st place Aberdeen Wings host the 2nd place Austin Bruins for a pair of games. Both teams have been red hot, winning eight of their last 10 games. The Bismarck Bobcats will host the 3rd place Minnesota Wilderness for two games this weekend. The Bobcats are just four points behind Minnesota in the standings and just three points out of the final playoff spot. With Brookings idle this weekend, the final team to see action in the Central is Minot, who plays host to the Fairbanks Ice Dogs. Minot will try and snap the Ice Dogs 15-game winning streak and become the first team since November 10th to hand the Ice Dogs a loss in regulation.
In the East Division, things got started early this weekend as both Northeast and New Jersey won their respective games on Thursday. The Titans, who racked up seven goals in a 7-2 win on Thursday, will again host the Wilkes-Barre/Scranton Knights on Friday. The Generals, who scored four unanswered goals to win in overtime on Thursday over Philadelphia, will host the Rebels for two more games on Friday and Saturday. Johnstown is idle this weekend.
In the Midwest, the 1st place Fairbanks Ice Dogs put their 15-game winning streak on the line in Minot against the Central Division Minotauros. The 2nd place Janesville Jets will be at home twice as they host Kenai River on Friday and then Coulee Region on Saturday. The Springfield Jr. Blues, who saw their losing skid hit eight straight games with a 7-4 loss at Coulee Region on Thursday, will face the Chill again on Friday before returning home on Saturday to host Kenai River.
The South Division got going on Thursday night as well with the Amarillo Bulls pulling out a 4-3 win in Odessa against the Jackalopes. The two teams will play two more games in Odessa on Friday and Saturday. The other series features the Topeka RoadRunners at the Lone Star Brahmas for a pair of games.
Friday, February 2nd
Philadelphia at Northeast - 7:30 PM EST
Wilkes-Barre/Scranton at New Jersey - 7:45 PM EST
Springfield at Coulee Region - 7:00 PM CST
Kenai River at Janesville - 7:00 PM CST
Amarillo at Odessa - 7:11 PM CST
Austin at Aberdeen - 7:15 PM CST
MN Wilderness at Bismarck - 7:15 PM CST
Topeka at Lone Star - 7:30 PM CST
Fairbanks at Minot - 7:35 PM CST
Saturday, February 3rd
Topeka at Lone Star - 6:00 PM CST
Philadelphia at Northeast - 7:00 PM EST
Kenai River at Springfield - 6:05 PM CST
Coulee Region at Janesville - 7:00 PM CST
Amarillo at Odessa - 7:11 PM CST
Austin at Aberdeen - 7:15 PM CST
MN Wilderness at Bismarck - 7:15 PM CST
Fairbanks at Minot - 7:35 PM CST