2018 NAHL Top Prospects Tournament begins in one month
January 29, 2018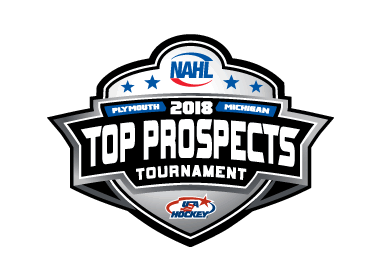 The 2018 North American Hockey League (NAHL) Top Prospects Tournament begins in one month and the NAHL has announced the details for the event, which will be held from February 27-28, 2018 at USA Hockey Arena in Plymouth, Michigan.
The NAHL Top Prospects Tournament is one of the most highly scouted events of its kind. Last season, over 250 scouts attended the event, which featured almost every NHL team and NCAA Division I school. The event continues to provide the hundreds of NHL and NCAA scouts in attendance with a look at the best uncommitted players the NAHL has to offer, as well as, some potential NHL Draft picks. It continues to be an important part of the NAHL event model, which is inclusive of the NAHL Showcase in September and the NAHL Robertson Cup National Championship in May.
120 total players from the NAHL will be spread amongst six teams, who will play in two games each during the event. The event will feature teams that represent the four divisions in the NAHL: Central, East, Midwest and South, along with two NAHL Selects teams. Only those NAHL players without an NCAA commitment are eligible to participate in the 2018 NAHL Top Prospects Tournament, with the exception of those who will be playing on the NAHL Selects teams. Each of the teams will consist of a 20-man roster (12 forwards, 6 defensemen, 2 goaltenders). Each team will play two games at the event.
The NAHL Standings will be frozen on Monday, February 5th at 5:00pm (central). Teams will then be seeded within their division based on win percentage. The #1 seeded team in each division will send 5 players; the #2 seeded team will send 4 players, the # 3, #4 and #5 seeded teams will send 3 players (East #5 will send 2 players); and teams seeded 6th will send 2 players. The NAHL will select three Wild Card players to participate on Team East. The head coach of the team with the best winning percentage in each division as of February 5th shall serve as the head coach for that division's Top Prospects team. The head coach with the second best winning percentage in each division shall serve as the assistant coach for that division's Top Prospects team. Nomination forms will be emailed out to all NAHL Head Coaches. Each Head Coach must submit the names of 3 forwards, 2 defensemen, and 1 goalie from their rosters for consideration for the Top Prospect Tournament.
A 2018 Top Prospects Tournament schedule will be announced in the near future.
"The NAHL Top Prospects Tournament is the most unique event we host, because its sole purpose is to provide those players that are still uncommitted a great opportunity to play in front of hundreds of NCAA scouts for a chance to make a great impression and earn an NCAA commitment," said NAHL Commissioner and President Mark Frankenfeld. "The addition of two NAHL Selects teams this season takes the competition and exposure to the next level and provides all of the participating players with a great opportunity to showcase their skills."
One of the things the NAHL does better than any other junior league is seeing their players earn an NCAA opportunity while playing in the NAHL. To date, over 140 NAHL players have already made an NCAA Division I commitment during the 2017-18 season and last year a record number of 305 NAHL players made an NCAA commitment. The NAHL Top Prospects Tournament plays a big role in that success, with over half of the players who played in last year's Top Prospects Tournament, earning an NCAA Division I opportunity following their participation in the event. For more information, please visit
nahl.com/tpt