Minot forward Adams makes NCAA DI commitment
December 26, 2017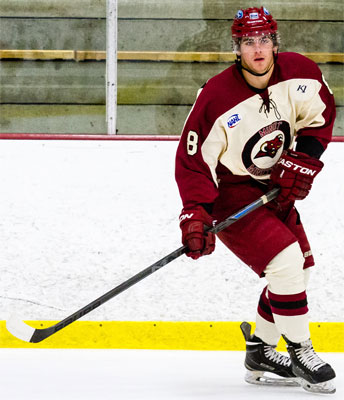 The Minot Minotauros of the North American Hockey League (NAHL) are proud to announce that forward Alex Adams has committed to play NCAA Division I hockey for Bemidji State University. Adams becomes the sixth Minotauros players this season who is committed to an NCAA DI program this month and 31st overall.
Adams, 19, the current Captain of the Tauros had entered the season committed to NCAA DI Air Force. Adams decided on a change recently saying, "I had a change of heart and no longer wanted to go the military route after college. It was a very tough decision and was in no way an indictment of the coaching staff or hockey program at Air Force, who I have a lot of respect for."
Once Adams was decommitted he began looking at his options. After a recent trip to Bemidji State, Adams knew where he wanted to play. "I recently visited BSU and loved the facilities as whole. The Sanford Center is an impressive arena that comes with everything you'd want. The coaching staff is great and the college offers a solid program in the department I plan on majoring in. Also, the fact that Bemidji is about an hour from my hometown makes it very easy for my family to travel to and from my games," said Adams.
The 6'1/200 lbs. native of Grand Rapids, Minnesota, has 17 points in 21 games played so far this season. Last season, Adams had 48 points in 58 games played as was named to the Central Division All-Rookie Team, as well as, the NAHL All-Rookie 2nd Team.
Tauros Head Coach and General Manager Marty Murray thinks the process worked out well for Adams. "I believe BSU is a great fit for Alex, and he'll be a great power forward for them." As for the type of player BSU is getting Murray said, "He had an unbelievable rookie season and after a bit of a slow start by his standards, his play has been dominant over the last month or so."
Adams was quick to credit those who have helped him throughout his career in helping him take the next step, "I couldn't have gotten to where I am today without the support of my parents and brother. I've also been blessed with good coaching all the way through my career. I'd also like to thank my teammates for making me look good."