Titans beat Rebels on Wednesday, 4-1
December 20, 2017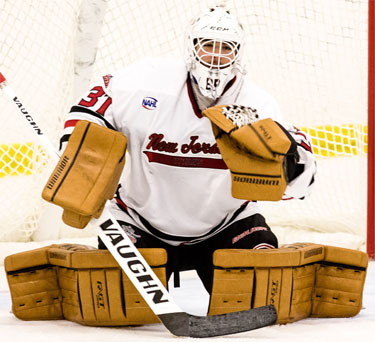 Philadelphia Rebels 1 @ New Jersey Titans 4 – New Jersey Titans goalie Brandon Perrone made 27 saves lead his team to a 4-1 win on Wednesday night.
It didn't take New Jersey long to score as just over two minutes in, the Titans converted on a 2 on 1 as Kyle Jeffers scored his 8th goal of the season. The Rebels were able to answer back later in the period on the power play as a shot from the point was saved by Perrone, but the rebound was fought for a ultimately batted in by Eric Olson. The Titans had an answer on a power play of their own as Todd Goehring was the recipient of some nice passing in the offensive zone, which ultimately found the stick of Goehring on the back door after a nice pass from Hunter Alden.
After a scoreless 2nd period, the Titans put the game on ice in the 3rd period as just :20 seconds into the period a stretch pass resulted in a 2 on 1 as Tate Singleton found Matt Cameron in the low slot, who then wristed a shot past Rebels goalie Ryan Keane. The Titans put the final goal on the board six minutes later as Andrew Husted outhustled the Rebels to a loose puck down the ice and fired a shot between the legs of Keane and securing the 4-1 win.
Keane would end up making 23 saves in the loss.
Tonight's game was the final NAHL game until December 28th as teams will take off the remainder of the week and weekend for the Christmas break.