Minot forward Loven makes NCAA DI commitment
December 12, 2017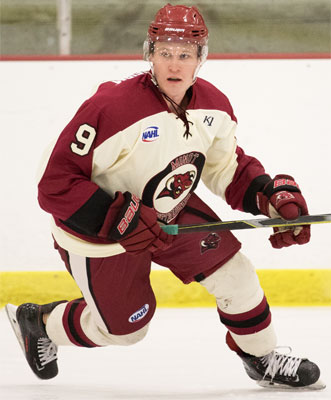 The Minot Minotauros, proud members of the North American Hockey League (NAHL), are pleased to announce that forward Grant Loven has committed to play NCAA Division I hockey for Northern Michigan University.
Loven, 19, becomes the 4th player on the Minotauros roster this season who has a commitment to a NCAA Division I school this season and the 29th overall. In total 60 Tauros have now committed to NCAA DI or DIII schools.
The 5'10/180 lbs. native of East Grand Forks, Minnesota, is currently 2nd on the Tauros overall with 27 points (7 goals, 20 assists) in 25 games. The veteran center plays in all situations for the Tauros posting 10 power play points and serving as a key cog in the penalty kill.
Tauros Head Coach and General Manager Marty Murray was quick to point to Loven's ability to play in all situations as a reason he is advancing after this year. "We are very happy for Grant and his commitment to Northern Michigan University. He brings his work boots every day to the rink and challenges himself to get better in practice. I feel NMU is getting a player that is very versatile and can play anywhere in the lineup," said Murray.
The soft-spoken forward's work ethic is second to none on the Tauros roster, as an assistant captain he favors leading by example. To that end he can often be found on the ice well after practice has ended honing his skills. Several players have started to join him for his post-practice skates.
"Grant has overcome a lot of adversity in dealing with some serious injuries over the past 3 years, but he stuck with it, and worked extremely hard. The Tauros are extremely pleased to see him get a well-deserved D1 opportunity at a great program," said Murray.
For his part, Loven was excited about the opportunity NMU presents. "It's a University that I've heard great things about. The coaching staff is great too. Just talking with them, the program is on the rise I think I can contribute a lot when I get there." Loven continued, "I want to thank my family for always supporting me, and coaches who have pushed me throughout the years. Also, the Minotauros organization has been a huge help in reaching my goals."