Jr. Blues, Titans pick up 5-3 wins on Thursday night
December 8, 2017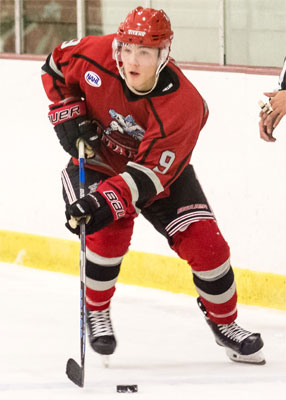 Coulee Region 3 @ Springfield 5
– Former Chill player Kasey Fitzjerrells came back to haunt his old team as the forward recorded a hat-trick as the Jr. Blues beat the Chill 5-3 on Thursday night. It was the first three goals of the season for the 20-year-old forward. After Coulee Region scored the first three goals of the game, the Jr. Blues stormed back to score five unanswered to win the game. The Chill led 3-0 through the first 21 minutes as a 1st period goal from Nick Bowman and 2nd period goals from Andrew McGlynn and Louis Helson made it 3-0. The Jr. Blues mounted their comeback with two goals later in the 2nd period from Nikita Kozyrev and Fitzjerrells to make it 3-2 at the second intermission. Fitzjerrells then scored two more goals in the 3rd period, which were bookends of the first goal of the season by Patrick Smyth, which would stand as the game-winner. Brad Marek picked up three assists in the game for Springfield. Evan Fear picked up the win in goal for the Jr. Blues, while Josh Graziano took the loss for the Chill.
Boxscore
New Jersey 5 @ Philadelphia 3
– Tate Singleton had a three-point night and Brandon Perrone made 28 saves to lead New Jersey to a 5-3 road win in Philadelphia on Thursday night. The Titans were bolstered by a great start, as the jumped out to a 4-0 lead halfway through the game thanks to goals from Hunter Alden, Kyle Jeffers, Matt Cameron, and Singleton. The Rebels tried to mount a comeback later in the 2nd period as they found the back of the net twice thanks to goals from Diarmad Dimurro and Brandon Stanley. The lead was then cut to a single goal as Julian Makary scored his second goal of the season, but just over a minute later a goal from Tate MacDonald would provide the insurance the Titans would need to hold onto the win. Ryan Keane made 11 saves and Eil Billing made 8 saves in the loss.
Boxscore