December 1, 2017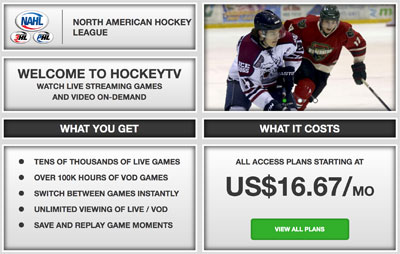 It is another busy weekend in the North American Hockey League (NAHL) as the calendar turns to December and teams near the midway point of the 2017-18 regular season.
23 games are on the schedule for Friday through Sunday this weekend, which features some intriguing match-ups.
It was another incredible week for the NAHL and NCAA commitments. Five more players made NCAA Division I commitments this week, bringing the 2017-18 season total to 106 commitments. One of the things the NAHL does better than any other junior league is seeing their players earn an NCAA opportunity while playing and being showcased in the NAHL.
The topsy-turvy Central Division is as close than ever as six points separates 1st place and 6th place entering the weekend. There is a three-way tie for 1st place and two of the teams, Bismarck and Austin, will meet this weekend in Bismarck for a pair of games. The Aberdeen Wings are also tied for 1st place and are in Minot this weekend for a series against the Minotauros. The Brookings Blizzard, who are just one point behind the division leaders, are in Janesville to face the Jets, while the Minnesota Wilderness are in Springfield to take on the Jr. Blues in cross-divisional competition.
In the East Division, the Philadelphia Rebels and Northeast Generals are tied for 2nd place with 32 points and will play a three-game series this weekend in Northeast. The other three-game series features the New Jersey Titans traveling to Johnstown to take on the Tomahawks. The division-leading Wilkes-Barre/Scranton Knights are idle this weekend.
In the Midwest Division, the Janesville Jets host Brookings and the Springfield Jr. Blues host the Minnesota Wilderness in cross-divisional competition. Kenai River is in Fairbanks for two more games of a three-game series. On Thursday night, Fairbanks came away with a 6-3 win. The Coulee Region Chill and Minnesota Magicians finish their two-game series on Saturday night, after the Magicians came away with a 3-2 road win on Thursday night.
In the South Division, division-leading Shreveport, who are unbeaten in regulation in their last 8 games, is in Corpus Christi, while Topeka is in Amarillo and Odessa is at Lone Star, all for two-game sets.
Friday, December 1st
New Jersey at Johnstown - 7:30 PM EST
Philadelphia at Northeast - 7:30 PM EST
Brookings at Janesville - 7:00 PM CST
MN Wilderness at Springfield - 7:05 PM CST
Austin at Bismarck - 7:15 PM CST
Odessa at Lone Star - 7:30 PM CST
Aberdeen at Minot - 7:35 PM CST
Kenai River at Fairbanks - 7:30 PM AKST
Saturday, December 2nd
Philadelphia at Northeast - 5:30 PM EST
New Jersey at Johnstown - 7:00 PM EST
MN Wilderness at Springfield - 6:05 PM CST
Brookings at Janesville - 7:00 PM CST
Topeka at Amarillo - 7:05 PM CST
Shreveport at Corpus Christi - 7:05 PM CST
Coulee Region at MN Magicians - 7:05 PM CST
Austin at Bismarck - 7:15 PM CST
Odessa at Lone Star - 7:30 PM CST
Aberdeen at Minot - 7:35 PM CST
Kenai River at Fairbanks - 7:30 PM AKST
Sunday, December 3rd
Philadelphia at Northeast - 12:00 PM EST
New Jersey at Johnstown - 3:00 PM EST
Shreveport at Corpus Christi - 3:05 PM CST
Topeka at Amarillo - 7:05 PM CST